The Ultimate Guide to Buying or Selling with Real Estate Agents in San Diego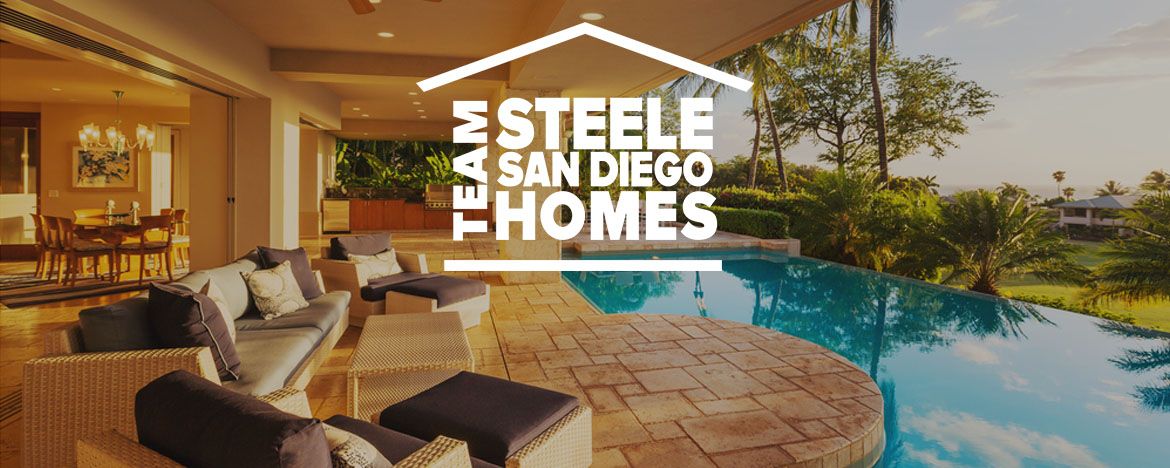 Introduction: Understanding the role of a real estate agent in San Diego
Before we dive into the definitive role of a San Diego realtor, defining a real estate agent is integral to understanding how they can help you glean that perfect property or offload it.
According to our friends at Investopedia, the classic definition is as follows: "Real estate agents are licensed professionals who represent buyers and sellers in real estate transactions […] Agents usually work completely on commission, so their income depends on their ability to assist clients and close transactions."
But let me put that into simpler terms: Real estate agents have their real estate license which means they have the know-how and education required to buy and sell homes for people just like you.
Now, there's a bit of nuance that Investopedia doesn't touch on. You may have also heard a real estate agent called a "Realtor." They have exactly the same credentials, but a Realtor is a member of the National Association of Realtors (NAR). Both of these facets allow a homebuyer to not only have a person by their side who is committed to a distinct, industry-specific code of ethics, but you can also view their clients, years of experience and license details to gain a greater understanding of the integrity of your agent.
Your San Diego real estate agent will, more than anything, be your greatest asset in buying and/or selling your property legally, efficiently and successfully.
1. Real Estate Agents in San Diego are Masters at Haggling, Negotiating and Closing Deals.
Let's be honest. As a cultural phenomenon, Americans are classically avoidant of haggling over price. The whole concept makes us a little dodgy. That's where the natural ability of your real estate agent's negotiating power comes in handy. They know the local real estate market inside and out, so they're able to get you the best deal, whether you buy or sell a home. Buying a condo in Downtown San Diego versus a home in Rancho Santa Fe will have its different advantages and challenges for both buyers and sellers, and real estate agents know how to get the best deal regardless of location. That's one of the most important aspects of their role. If you're buying a home, they'll work to get you the best deal, while if you're selling, they will negotiate for the best price possible.
Remember that definition we talked about earlier from Investopedia? Real estate agents' income is (typically) completely dependent on closing the deal. No deal, no dough. So, that means a good agent has a strong incentive to work for you, and get you the best deal possible.
Not only does a great closing deal offer an agent a potential positive review—which yields more business opportunities—but it also encourages them to get you the highest value out of your sale or purchase because it benefits you both. It's a beautiful symbiotic relationship.
With San Diego offering such high home prices, it isn't surprising that there's more than 8,200 licensed real estate agents in the county for you to choose from. Working with the right agent can make or break your buying or selling experience. Choose wisely. (Don't worry, we have some suggestions for how to do just that.)
2. Access to the vast expanse of the MLS
The role that everyone is most familiar with when it comes to real estate agents, is their access to MLS or Multiple Listing Service. The listing data stored in a MLS database is the proprietary information of the broker who has obtained a listing agreement with a property's seller, according to self-set standards of the MLS.
This makes the listings your agent sends you somewhat like valuable 'secrets' that not all home-sellers or homebuyers have access to. Your agent's job is to tailor your MLS listing site to your wants and desires, or if you're a seller, the agent can use the MLS to guide you on how much you should list your home at.
3. Contracts are confusing.
Aside from having intimate knowledge of the market, a good real estate agent can bring a ton of value by managing your contracts. There is A LOT of paperwork involved in a real estate transaction and the requirements and guidelines are constantly changing. Forbes writes on the topic, "An experienced real estate agent deals with the same contracts and conditions on a regular basis, and is familiar with which conditions should be used, when they can safely be removed and how to use the contract to protect you, whether you're buying or selling your home."
Take a peek at just one of the many forms you'd have to complete on your own if you chose not to use a licensed agent here. NAR reports that For-Sale-By-Owner outcomes tend to be rather bleak, often never making it to the closing table or leaving money on the table, selling for thousands less than comparable homes sold with an agent.
"FSBOs (for sale by owners) accounted for 7% of home sales in 2020. The typical FSBO home sold for $260,000 compared to $318,000 for agent-assisted home sales. Most difficult tasks for FSBO sellers:
Preparing/fixing up home for sale: 17%
Getting the right price: 14%
Understanding and performing paperwork: 11%
Selling within the planned length of time: 5%
Having enough time to devote to all aspects of the sale: 5%
Attracting potential buyers: 3%
Helping buyers obtain financing: 3%"
Research is clear here. Whether you're a buyer, a seller, or both, hiring an experienced real estate agent to assist you in handling everything that comes with a move is well worth it.
You've probably heard the most common real estate phrase "Location, location, location," and it's true that the factor that is going to have the largest impact on your home value is the location that it is located. In San Diego it's no different, and aside from location, it's important to keep in mind other features of the home like the condition, finishes, lot size, views, attractive or unique features and more. There are a lot of factors that impact a home's value and it's very important when selling to make sure that the price is right or you could end up hurting your bottom line. With San Diego having some of the highest home values in the nation, a mispriced or mismarketed home could end up costing you dearly. Being unfamiliar with the typical real estate contracts and documents could also hurt you if you agree to a term without understanding the risks or repercussions for failing to disclose a material fact that now puts you at risk of litigation. Having an experienced agent can not only alleviate all of this stress and make you more money, they can save you time and energy as well.
The Benefits of Working with a San Diego Realtor
Some homeowners have misconceptions of what a real estate professional can truly do for them, and so they consider selling their home on their own. There are many benefits to working with a realtor who's familiar with San Diego County, the local Real Estate Market, instead of a DIY approach. In this section we'll explain exactly what those benefits are:
3 SELLER BENEFITS
Say adios to overwhelming administrative duties.
If you are looking to sell your home yourself, be prepared to have your cell phone become a rather annoying appendage in your daily repertoire. You will have to take calls from anyone who shows interest in your home, and these calls must be handled as if every call is a potential buyer. Having this type of patience with something you're emotionally invested in can make this process overwhelming. Especially when you're asked to answer repetitive questions or listen to criticism about the home you know and love.
The most time-consuming aspect of selling your own real estate listing is that you will have to show up to all the appointments you schedule to show the home. If you have a normal 9-5 career, this could be a huge impetus to getting your work done. Especially when you're dealing with no-shows, which is a frequent issue with showing a home.
Realtors are masters at turning negatives into positives.
In the prior section we touched on the emotional aspect to selling homes. Such things, like your potential buyer criticizing your choice of paint, the way your bathroom smells, or how ugly your kitchen is can get a little frustrating to field from strangers. Realtors are masters at turning a negative comment into a positive—they're sales-minded! Is the square-footage low in your real estate listing? Realtors and brokerages will compose a beautiful description highlighting the positives of a smaller property that is more cozy than claustrophobic. Many of us do not have the ability to emotionally distance ourselves from our home, especially when it involves harsh criticism. The beauty of having a realtor is that you never have to deal with this nonsense. They handle it, and offer solutions and ideas that you, or a potential buyer, may not have thought of. This is their world and a San Diego realtor is savvy about what makes San Diegans happy in terms of lifestyle.
Some realtors (including us at Steele San Diego Homes!) will work with you to stage your home to mitigate any potential criticisms and make your home more design-neutral. This makes the property more palatable to potential buyers who can then use the staged design to more easily imagine what their own personal touch could do to make this into their dream home.
This practice has really become a secret weapon for us, and more importantly it works! With a competitive real estate market, a San Diego home for sale really needs to be staged well to attract the best possible offers and help buyers fall in love emotionally with your home. After all, they need to envision themselves in the home, living and enjoying it, before making an offer.
"Homeowners, reluctant to spend the money or admit that their decorating choices might not be catnip to buyers, are often loath to pay strangers to impose their tastes on their premises. But as staging has evolved over the past decade, many real estate professionals say it has become more important — and more sophisticated — than ever," reports Forbes.
Even better, a recent survey by Coldwell Banker Real Estate Corp found non-staged homes linger on the market six months longer, on average, versus staged homes. Their research also surfaced another lucrative plus: staged homes tend to sell 6 percent higher over the asking price than non-staged homes. If time is money, and money helps you save time: staging your home might be the best investment you make with your San Diego real estate agent. The San Diego housing market can be a confusing, overwhelming arena. It's best to have someone with years of experience buying and selling in San Diego County to guide you through it all.
Contracts are, well, pretty confusing.
The last thing any potential do-it-yourself seller wants to do is incorrectly submit or file forms regarding the sale of the home. The National Association of Realtors reported that the number of homeowners attempting to sell on their own has been falling in recent years. It has recently been the lowest since the association began tracking what they call FSBOs (For Sale By Owner) in 1981.
Not surprisingly, the NAR likes the trend, and chalks it up to a more challenging real estate environment, as well as more federal laws requiring additional disclosure as well as HUD's already tough scrutiny to ward off housing discrimination.
"Selling a home requires more disclosures and legal requirements than ever before," said Adam DeSanctis, a spokesman for the Washington, D.C.-based NAR. "Managing the appraisal process, inspections and buyer qualifications has become more complicated in a tougher credit market, adding to the already intricate transaction process,'" he explained in an interview with MarketWatch in 2016.
As you can see, working with a residential real estate professional in San Diego is not only better for your peace of mind, but also your wallet! You can get a higher price for your property working with an agent than selling on your own.
3 BUYER BENEFITS
Just like for sellers, real estate agents in San Diego are also extremely helpful for buyers. Here are three reasons working with realtors is a good way to go when you're buying your dream home:
Let Your Realtor Do the Talkin'
Earlier we chatted a bit about how tough negotiating is. And obviously this benefit can also behoove a would-be FSBO seller, but it's one of the best benefits for a buyer.
Let's say you really love the home you're about to buy, and you want to do it all on your own without a real estate agent, then consider this: you might be wearing rose-colored glasses. Here are some of the steps one would have to complete:
Step 1: Get pre-approved for your home loan. This typically takes about a day of preparation and a day or two (and sometimes even a few weeks) to complete with a financial institution, lender or mortgage broker
Step 2: Connect with a local real estate agent to discuss your real estate goals and needs
Step 3: Search for properties that catch your eye and fit your needs and work with your real estate agent to coordinate showings
Step 4: Conduct further research – Did you like the property and are debating making an offer? Conduct further research by driving around the neighborhood, taking a walk, chatting with neighbors or doing further online research to determine if the property and neighborhood are the right fit for you.
Step 5: Make an offer! – Work with your agent to submit an offer on the property. Aside from the price that you are offering, it's also important to discuss the terms you will be offering.
Step 6: Open Escrow – If the seller accepts your offer you will have a fully executed contract and escrow will be opened.
A reputable and knowledgeable local real estate agent will be able to support you with all of these steps. Keep in mind that for buyers, there is usually little to no additional cost to work with a real estate agent as the commissions are generally paid for by the seller. So as a buyer, it's really a win-win and makes sense to work with a great agent!
"Without an agent, you might not receive all of the seller disclosures that you are entitled by law to receive. Sellers might not purposely withhold a disclosure, but you probably won't know what to ask for," explains Elizabeth Weintraub on The Balance.
And THAT alone could lead to major headaches later on.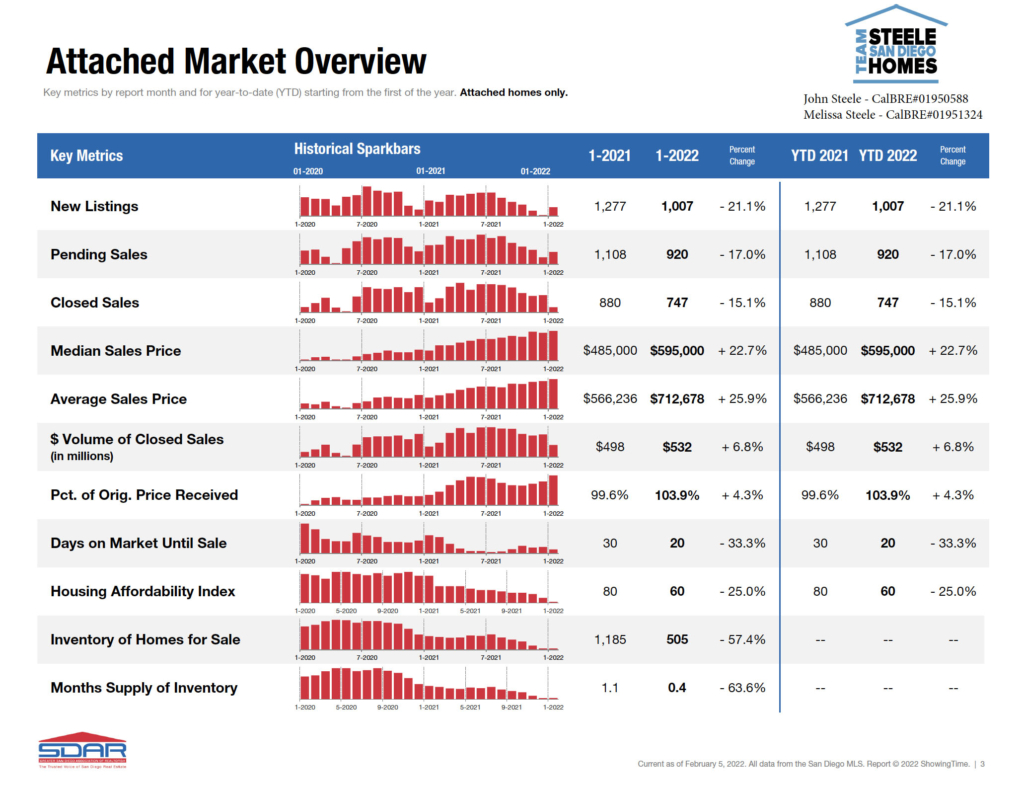 Data Courtesy of Greater San Diego Association of Realtors.
San Diego County Real Estate Trends: By Region
One of the unique aspects to San Diego County is its vast expanse. With more than 3.1M people in the county, it's one of the largest in the state. This also means that regional data is varied, as not all corners of the county touch that precious Pacific coastline, meaning there's large swings in cost, quality and basically, what you get for your money. Throughout this section, we'll outline the Housing and Condo markets by the following regions: East County, Central San Diego, South Bay and North County.
---
EAST COUNTY
Areas included in "East County" include the following, El Cajon, La Mesa, Santee, and Lemon Grove—as well as suburban unincorporated communities such as Lakeside, Spring Valley, Jamul, and Alpine. While prices have been steadily rising across San Diego County, East County is generally more affordable and will offer more "bang for your buck" compared to areas that are more central or coastal.
Compared to San Diego County as a whole, Sandicor reports East San Diego County is a great buyer's market. Yes, costs are rising in the East—but the cost of a Detached Single Family Home is still approximately $100K less than the average home across the entire county. That's some major savings for buyers. East County also offers less traffic on the freeways, and access to colleges, beaches and the mountains — perfect for those looking to be close to the action but not overwhelmed by urban living or high urban costs of living.
---
EAST COUNTY MARKET INSIGHTS
According to InfoSparks, East County's housing inventory has been steadily decreasing over time, although not nearly as dramatic as San Diego County. Recently in Q3 of 2022, we've seen inventory start to pick up. We're still far from the inventory levels that we were at a few years ago though.

SOUTH BAY
With up-and-coming areas such as Chula Vista and Imperial Beach on the rise, the South Bay Region of San Diego shimmers like a diamond in the rough. Imperial Beach bills itself as Classic Southern California for being relatively untouched in terms of other coastal cities. Bonita, Lincoln Acres, National City, and South San Diego.
SanDiego.org notes some of the more tantalizing features of the region, "Connecting the South Bay to Coronado, you'll find a portion of the Bayshore Bikeway, one of the most beautiful bike paths in California. This 10-mile portion features a flat, palm tree lined path with stunning views of the San Diego Bay and Silver Strand State Beach."
Other cities, such as National City, also show promise in modern real estate trend reports. Home to the largest Naval Base in the nation, National City has always had a strong military-family presence in the buyers and sellers market, making loan options more lucrative for military families and singles, or veterans.
---
IMPERIAL BEACH SPOTLIGHT
One of the hottest markets in San Diego County has been Imperial Beach (also known as IB). Trulia recently reported trends in Imperial Beach show a 9 percent year-over-year rise in median sales price, with median home prices tracking pretty closely to San Diego County.
In addition, the data shows only 27 percent of residents in the city own a home. This makes the investment property market highly lucrative as most residents rent versus own. Investment property buyers would be smart to look at this market as it offers plenty of coastline and more bang-for-your-buck in terms of cost-per-square-foot as well.
---
IMPERIAL BEACH DEMOGRAPHICS
BY THE NUMBERS
Population: 27,334
Median Household Income: $59,795
Median Property Value: $593,400
Employed Population: 12,995
Median Age: 32.6
IMPERIAL BEACH FAST FACTS*
There are 7.8% vacant homes here
This area usually gets 267 sunny days each year (U.S. average: 205)
Job market growth came in at 1.85% last year
The average expenditures for each college student in the area is $5,288. ($5,691 = national average)
(*Data courtesy of HomeSnap.com)
---
NORTH COUNTY
Talk about hot, North County's real estate market is sizzlin' whether you're a buyer or seller. According to the North County Association of Realtors, "[…] demand has remained high through the first three quarters of 2022, propping up sales and prices despite heavy reductions in inventory and months of supply across the country. With rental prices and employment opportunities in a consistent climb, year-over-year increases in home buying are probable for the rest of the year but not guaranteed."
North County has a unique suite of factors that drive demand in the region. North San Diego County of Realtors writes, "Millennials are reaching prime home-buying age, growing families are looking for larger homes and empty nesters are downsizing."
Despite these factors, North San Diego County continues to experience rising housing prices. The aforementioned dwindling housing inventory problem, in conjunction with rising prices, makes the North County region a particularly hard area for first-time homebuyers to snag their preferred home. Sellers rejoice though, as homes tend to glean asking price range and don't last long on the market!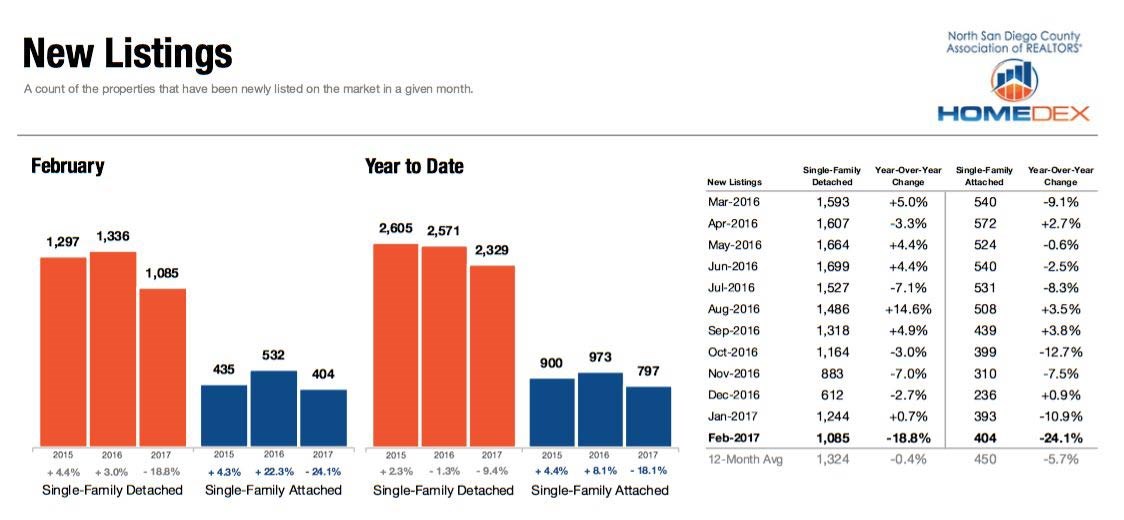 (Report and Graphs Courtesy of North San Diego Association of REALTORS®)
This seems to tie directly in with North San Diego Association of Realtors annual report, which noted that buyer activity is outpacing seller activity in much of the county. Quick sales and low supply continue to be the defining factors of North County—with demand remaining strong.
NORTH COUNTY HOUSING, 2022 STATS:
Median Single Family Detached Home Sales Price $903,500 (+ 11.5%)

Median Townhome and Condo Sales Price $542,500 (+16.7%)

Average Sales Price $851,468 (+13.4%)

Months Supply of Inventory 1.6
North County can generally be broken into two parts, the coast and inland. Coastal communities in North County are some of the most desirable neighborhoods and areas in San Diego County and the country. With that strong demand though comes a high sticker price. In these communities, even a "basic" single family home could easily run you $1.5-2M+. As homes increase in size, as lots get bigger with more amenities, the prices can continue to rise. And if you're close to the ocean and beach, expect prices to increase even more dramatically. As a general rule with San Diego, the closer you are to the ocean, the more expensive it gets.
With the inland communities of North County, you do get much more variation. Areas like Escondido, Vista, Poway and Fallbrook are all going to have a much different feel compared to coastal neighborhoods like Carlsbad, Oceanside, Encinitas, and Solana Beach. In the inland areas, you will get "more bang for your buck". Homes are considerably less expensive in these areas and you tend to get more room as well with larger lots.

CONDOS, CONDOS, CONDOS!
One of the special misnomers about the much-desired North County San Diego, is their condo market. Compared to median home prices, year-over-year, condo sales price rose by 13.6 percent compared to the single-family home prices which rose 5.8 percent. Even if math is not your strong suit, the numbers are clear. First-time homebuyers may find the $395K median condo price doable, while the median single family home price of $545K may continue to seem slightly out of reach currently for the Millennial market of buyers.
Below you'll find tabulated data courtesy of Rereport.com which provides more insights to compare the condo market versus the single-family home market:
See more information on some North County neighborhoods:
CENTRAL SAN DIEGO
Central San Diego generally encompasses the neighborhoods and "suburbs" around Downtown San Diego. Similar to North County, this area can be divided into the coastal and more central neighborhoods.
Coastal neighborhoods include communities like La Jolla, Pacific Beach, Mission Beach, Ocean Beach and Point Loma. Similar to North County, the proximity to the water will have a dramatic effect on home prices and cost of living. These communities are not only popular with locals, but they are also hot spots for tourists and people vacationing. With some of the best beaches in the world, it's no surprise that the demand is high to live in these areas.
The central communities not on the water include popular neighborhoods like Clairemont, North Park, Kensington, Normal Heights, Mission Hills, Del Cerro, San Carlos and more. These neighborhoods tend to be some of the older neighborhoods of San Diego with many homes being built between the 1920's and 1970's. These neighborhoods offer relatively easy convenience to the beaches, downtown and more, but without the increased costs that come with living by the ocean. Neighborhoods like North Park, Hillcrest and Normal Heights have also become very trendy hot spots for restaurants, nightlife, shopping and more.
We're also seeing the density of these neighborhoods increase as the city continues to develop. Multi-unit properties can commonly be found in many of these areas and there are generally more condos and townhomes compared to some of the more suburban communities.
"Condos, once thought inferior, are now becoming the standard," said Mark Marquez, a broker/owner with San Diego Association of Realtors. The Insight session at the event also explored that part of this shift is due to more mixed use development (like the I.D.E.A. District) in urban areas and downtown San Diego "booming" with integrated mix. Single-family homes have seen their value rise, while demand has been "holding steady," reports the San Diego Union-Tribune on the trends.
What buyers and sellers may also begin to notice alongside a more bloated skyline, is that would-be residents of Central San Diego are seeking hyper-convenience. Downtown dwellers want work, living and playing all within walking distance. Live-work-space concepts, such as the I.D.E.A District, completed in 2018, are becoming more common. The I.D.E.A District offers solutions to San Diego housing market concerns by having a strong mission to create more than 13,000 design and tech jobs in the next 12 years in Downtown San Diego's East Village.
For what it's worth, these types of 'smart' districts offer wide-ranging Wi-Fi so loft-livers can work anywhere in a given property, or offer small work-collaboration spaces for co-working below living spaces, and a central Hub where residents can watch films, see bands, visit local craft-makers, etc.—it makes sense why these concepts are becoming more common and more desirable to San Diegans.
---
DOWNTOWN TRENDS
Downtown San Diego would be included in the general Central San Diego area. This market (92101) is dominated by condominiums and town homes, there really are very few single families around this part of town.
---
DOWNTOWN INSIGHTS
There is a lot going on downtown, not only with all the restaurants, shopping, nightlife, etc, but also with construction. We're seeing many new developments and projects going in downtown and it's exciting to see how much is being invested in the city. The Planning Department develops plans that provide funding to assist in the financing of community-serving infrastructure, such as roads, parks, recreation facilities, libraries, and fire and police stations.  The Department has, according to a 2015 report by the San Diego Union-Tribune, "more than $6.4 billion in 63 projects under construction, approved or under review — an amount equal to more than 40 percent of the 1,600-acre community's entire $15.5 billion in assessed valuation, according to Civic San Diego, the downtown planning agency, and the county assessor's office." This is exciting news.
In other news, one of the many projects downtown set to help out inventory challenges is Wood Partners large-scale 110-unit project at 1919 Pacific Highway and completed in 2018. Another large-scale project, coined Pacific Gate, (and located in a similar area as the Wood Partners' construction), is another new downtown high-rise luxury condominium.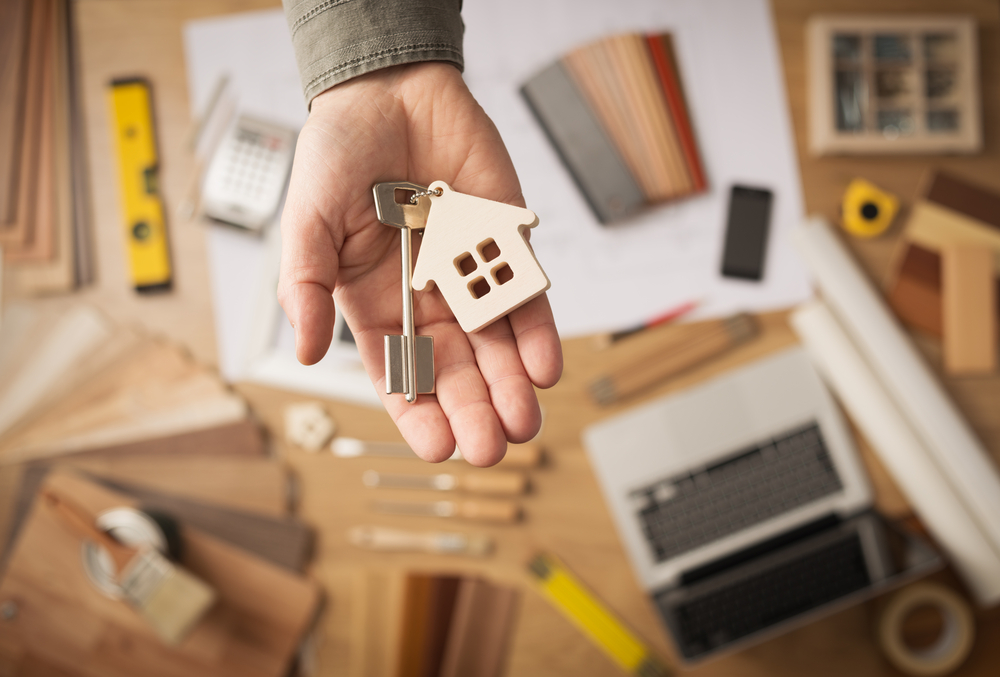 How Residential Real Estate Agents Support Sellers
Real estate agents work with sellers in a variety of ways. This includes, listing your home for the right price; marketing the property; negotiating the best purchase price; and seeing your escrow process from start to close. The selling process has many phases, as you can see or may already know. Now. let's outline how a San Diego real estate agent can get you through the selling process quickly and seamlessly—but first things first: find the right realtor for you!
How to Find the Right San Diego Realtor:
Choosing a real estate agent is a highly emotional process, especially if you're selling a house that was actually your home. It's a big decision trusting a stranger to take your home into their hands and sell it off. Obviously, if you've never sold a home, you would assume it's a good idea to do a bit of research on the agent you may choose to do the selling. You want the person selling your home to have the experience and ability you need to sell your home effectively and efficiently.
Which begs the question, what makes a great agent? We wrote about this specifically on our blog.  "A great agent is someone you can trust to not only get you the best price for your home, but also helps reduce the stress that often comes with placing your home on the market. The best agents know how to aggressively market your home, recommend staging techniques that put your home in the best possible light, and vet potential buyers so you only deal with serious prospects."
But how do you know if the agent you're interviewing is right for you? We actually offer a handy checklist to bring with you here, but for our purposes, we will expand on the logic behind this checklist to help you on your journey to sourcing the perfect San Diego realtor for you…
1. Ask your potential agent how long they've been in the business for. Also, ask what type of licensing they have or what organizations they belong to in the area. Check the site(s) to confirm their license(s) is active. Also, you might even ask for references to help support your interview process.
2. Ask your potential agent what their selling philosophy is or their selling strategy. Realtor Magazine notes that top-producers have a variety of selling strategies at their disposal. "Top producers recognize that closing techniques have to be tailored to the personalities of the buyers," they write. "Some require a more aggressive approach, but most buyers need emotional support and a softer sell."For instance, there's the "Sum-It-All-Up Close." Some realtors take this approach to help remind potential buyers of the package deal. Closer that operate on this strategy reiterate the winning features of your home, the asking price, and any terms or contingencies, or services the realtor will offer free during the transaction. Then, as Realtor Magazine notes, this type of closing strategy closes with a direct question: "Should I go ahead and draw up a purchase offer?" This is a more direct approach. Conversely, the "Pros-and-Cons Close" approach is a bit less direct and puts more of the onus on the buyer to make a good decision for them. If buyers are waffling, the Pro-Con-Closer would then draw up a list of, you guessed, pros and cons to purchasing this particular property.Realtor Magazine once again notes that this strategy is effective when realtors, "start with the pros to create a positive flow. Analyze the downside and move toward the close with an upbeat statement: 'It looks like the pros outweigh the cons. Why don't we go ahead and make an offer?'"
---
---
3. Ask them how familiar they are with the local San Diego housing market. Did they grow up here? Do they own a home here, and if so, for how long? A realtor's knowledge of the local market is exceedingly important when it comes to properly pricing your property for a sale. A savvy agent understands the pros-and-cons of a given neighborhood and knows how to sell it to the right buyer. But unless you adequately vet your potential agent, you'll never know…
Planning Your Timeline
After you found your perfect San Diego real estate agent: now what? Well, now's the time to start creating a timeline of to-do's to get your home ready to sell. It just makes sense to take a holistic view of your home and be honest: Do your fuschia walls translate well to traditional buyers or should you whitewash your living room? Should you check all the doors for creaks and cracks? Does your yard need some tending-lovin' care? Let's assume the answer is a resounding yes to all these queries and more.
One should probably start on the outside of the home and move inwards. Take inventory of your yard situation. Does your perfect realtor have any recommendations for upleveling your landscaping situation? We offer several tips on our blog, and to name a few of the ones that offer that fastest results, how about start with your front walkway. The first thing a potential buyer sees when they arrive is the front of your home and typically this includes the front doorway.
Here's some ideas to get you started:
Clear clutter away from the front door, sweep the steps and weed the walkway
Paint your front door or clean it thoroughly
Replace your home address numbers
Replace your mailbox
Next up, start that spring cleaning! Have a major yard sale, estate sale, trip to the dump and drop off unwanted clutter at your local Salvation Army or the like. This is one of the best ways you can increase your home's appeal.
Make your home's layout crisp, organized and clutter-free so potential buyers can imagine how the home would look with their stuff in it. Give them a canvas to imagine unfettered. The more they see your bags of knitting yarn heaped in corners, or piles of dishes in the sink or piles of papers and clothes strewn about, the more they see the home in an unfavorable light. You want to sell your home—so make it truly shine!
Lastly, now that you've tackled the outside of your home, spruced up the landscaping and front entry, and nailed your decluttering initiatives: it's time for repairs. Do you have any leaky faucets; sinks or drains that periodically clog; need new toilet seats; or have a stove with a burner out? These are all the types of small repairs that can make a big difference to a potential buyer.
The smartest updates you can make to your kitchen include:
Re-facing or painting dated cabinets
Replacing dated cabinet hardware (like handles) with a sleek and modern touch
Lighting fixtures
Quality flooring
Appliances
Sinks and faucets
Fresh paint in neutral colors.
WANT MORE IDEAS? THIS STEELE HOME'S CHECKLIST WILL HELP YOU UNDERSTAND THE SELLING PROCESS AND BRING YOU PEACE-OF-MIND.
Some of the great ideas you'll uncover include…
Getting Started: What to do first – From finding real estate agents to figuring out when is the best timing for you as sellers to place your home on the market
Researching the Market: Understand what a prospective buyer is looking for and setting an optimal price
Preparing your Home for a Sale: Prepare your home for an open house by increasing curb appeal, updating the home exterior, and painting walls to get your property in tip-top shape
Negotiating Offers: When we do our job correctly, you get offers. Learn what the negotiation process looks like and what to expect, including making necessary repairs to pass inspection
Closing the Sale: Offers are in and an earnest money deposit has been made by the buyers—now we wait for escrow to close
The Final Stages: Find out the last steps are for finishing up a sale and handing over the keys, such as bringing in professionals to clean, and celebrating your sale!
Also, have records readily available of your most recent updates to your electrical, plumbing systems, or window replacement receipts. These types of updates are desirable to potential buyers. Make sure to fill-in your realtor with all this info and knowledge so they can have the best arsenal possible to help make your home's sale a wild success.
Your San Diego home is a definite investment which is why home improvements, upgrades and renovations obviously benefit your sale of it. But knowing where to invest your money and energy in regards to the timeline of planning your sale. The main goal is to always work to increase your homes value without breaking the bank.
Conducting Your Home's Walk-Through With Your New Realtor:
One of the final steps that your San Diego realtor will do to support the beginning of your home selling process, is do a walk-through (or walk-thru) with you. This is a standard process for not only those selling, but especially for buyers.
According to Trulia, even if you and your agent have truly scanned the home inside-and-out, it's possible you could have missed something, and you definitely don't want to have the walk-through the buyer's agent to surface expensive issues or repairs. Here's some ideas to help prepare you.
Sellers should start thinking about anything inside their home that involves fixtures. Fixtures include, dishwashers, built-in microwaves, cooktops, and sinks. Those appliances almost always stay with your house when it sells. But your refrigerator and your washer/dryer are often up for negotiation, so this is a good place to start with your new realtor so they can begin crafting the beautiful description their use on the MLS to list your property.
Also, other fixtures to note are lighting. Did you purchase very fancy-schmancy chandeliers; do you have antique ceiling fixtures; or wall sconces that you simply can't part with from Pottery Barn? Make sure to let your real estate agent know what says and what goes with you. Oftentimes, most sellers leave behind these fixtures but it's not a given, so make sure to decide before you start showing.
Storage solutions: should they stay or should they go? Great question, and it's entirely up to you but as previously noted, make sure your agent understands what you're willing to sell with the home sale, and what you're not. If you recently purchased a $1,000 Craftsman Shed, and you want to take it with you when you move: That's fine! But make sure that's made clear to potential buyers. Also, let you agent know if you'd be willing to part with it. It might make a good negotiation technique! You never know…
---
Trulia advises that it's never a good idea to openly "advertise that you are willing to sell or leave any items with the home until you agree to a price on the home during contract negotiations," Knox advises sellers. Make the home transaction and the furniture transaction two separate deals."
---
Top Repairs You and Your Agent Should Pay Close Attention to…
Heads Up!
Trulia reports, "roof issues are responsible for 39% of homeowners' insurance claims, according to the National Roof Certification and Inspection Association. If your roof and shingles are more than 20-years-old, you might want to think about replacement.
Otherwise, there are several inspection companies that can and will inspect your roof and siding to make sure it's in tip-top condition, as well as offer you a certificate stating that it's in good condition.
DID YOU KNOW?
"Spending $14,000 on a new roof can add curb appeal and up the asking price by $10,500, for a ROI of 75 percent, says the ISoldMyHouse.com report."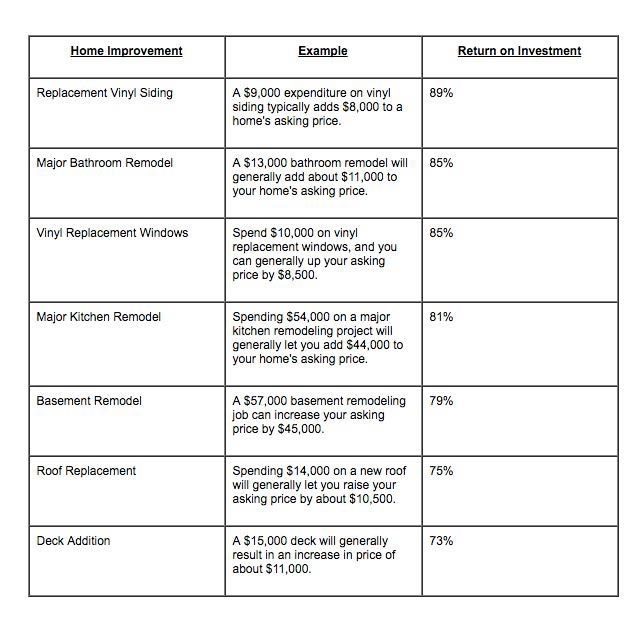 A Breath of Fresh Air.
Replacing windows can bring a 50 to 80 percent return on your investment, but if they're not stuck shut, some sellers would be better served to bump this down a few notches on their must-do list.
CNBC reported on this phenomenon regarding vinyl replacement windows and notes an even higher return on investment than Trulia.
"Windows are a functional update that are not so noticeable visually, but are much appreciated for improving energy efficiency. A $10,000 expenditure on new windows can bump up an asking price on a house about $8,500, according to ISoldMyHouse.com, for an 85 percent ROI," they write on the topic.
Bug Off or Bug Out.
According to an interview with the experts at Terminix, a local termite infestation solution company, termite season typically ramps up in the springtime and certain environmental factors, such as warmer-than-usual temperatures and rainier-than-average winters, can all increase those numbers.
Trulia reports, "termite infestation causes more than $5 billion in damage to U.S. homes each year, and sellers are typically required to disclose it. Adding a termite warranty from a remediation company can give your buyer peace of mind."
DID YOU KNOW?
The experts at Termite.com note, that Western Subterranean Termites are in "plague proportions in parts of California, particularly in the urban areas of Fresno, Salinas, Bakersfield, Santa Maria, Los Angeles, Pasadena, Riverside, Orange County, San Bernadino, Long Beach, Santa Ana and San Diego regions."
In addition, these types of termites can do extensive damage. In an interview with the San Diego Union-Tribune, Todd Veden, an expert at Terminix San Diego explains, "They are very cryptic in nature, so the damage can go unseen for a long period of time unless there are outward signs, such as swarming and other things like mud tubes, which look like dirt-colored shoestrings. They appear in unusual places, like base molding, crown molding, electrical switches. They seem to appear overnight."
You Need a Firm Foundation.
San Diego has a unique geography and homes here oftentimes experience foundation issues out here as they age due to erosion, rainy seasons, and earthquakes. But when you and your realtor are conducting your walk-through, make sure to pay special attention to your home's foundation during the inspection. Trulia writes, "Not all foundation cracks are created equal. Some point to normal settling, but others can signal a foundation problem. How can you tell the difference? Consider the size."
Trulia goes on to note that those cracks less than ¼ inch in width are probably due to normal settling but displacement, meaning your house pitches one way or another, could be the sign of a larger, more costly repair. Some buyers are so eager to make a sale, they're willing to negotiate on price if you're unable to make the repair. These are all important necessary talks to have while you and your realtor are preparing to place your home on the MLS and stake that For Sale Sign out front.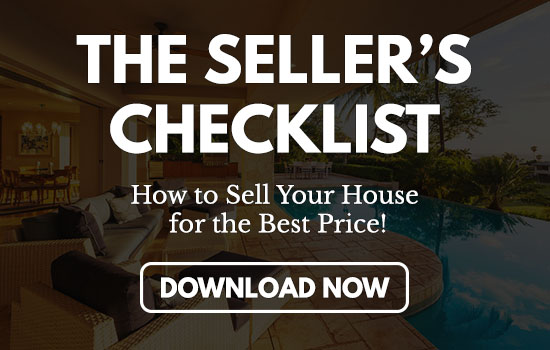 ---
How Your Real Estate Agent Determines List Price and Creates a Marketing Plan
The Charm Strategy
There is a strategy to setting the right list price for a home. And when you're the seller, obviously the stakes are very high in making sure that the price is right. Understanding the logic that goes into this determination is important for sellers to know. Industry-wide, many realtors utilize the "99 strategy" or charm pricing.
According to Entrepreneur Magazine, "This strategy, often called 'charm pricing,' involves using pricing that ends in '9' and '99.' With charm pricing, the left digit is reduced from a round number by one cent. We come across this technique every time we make purchases but don't pay attention. For example, your brain processes $3.00 and $2.99 as different values: To your brain $2.99 is $2.00, which is cheaper than $3.00."
This technique is psychological in nature, but it's highly effective. But WHY does it work is the million-dollar question? Here's the logic: "In an experiment conducted by the University of Chicago and MIT, women's clothing was used to test the left-digit effect. First, prices were set for $34, $39 and $44. To the amazement of the researchers, the items sold best at $39 even though that price was more expensive than other options," Entrepreneur continues.
So, how do realtors capitalize off of this logic? Let's say you're selling a home in a hot, up-and-coming neighborhood such as North Park or Normal Heights and together, you and your realtor determine your home is worth about $900K based on comps (or comparable homes) in the area that have sold recently or are currently on the market. Now, after determining the home's worth, a price range for the list price must be determined. Reader's Digest reports, "The price range typically goes a bit higher with more expensive properties; a home worth about $1 million might have a range of $950K to $1.05 million."
Using this strategy, your home's listing price could be listed around $849,000-$949,000
The Prestige Strategy
According to a 2015 study hailing from the Journal of Consumer Research, rounded numbers (e.g., $100) are more "fluently processed and encourage reliance on consumers' feelings, compared to non-rounded numbers (e.g., $99.99), which are less fluently processed, and encourage reliance on cognition." This is deemed Prestige Pricing, and as you may have noticed, it's completely the opposite of Charm Pricing or the 99 Strategy.
The basic premise of this strategy is to make all numbers rounded up to whole numbers, such as $399.99 to $400.
"You may be wondering why, notes Entrepreneur Magazine. "This means that rounded numbers 'feel right' because the purchase is being driven by feelings and the price is processed quickly."
The researchers who discovered this phenomenon noted in their study that consumers were "more inclined to buy a bottle of champagne when it was priced at $40.00, rather than $39.72 or $40.28."
Much like Charm Pricing, this begs the question: Why does this strategy work?
According to PriceIntelligently.com, "The theory is customers will pay higher prices for the right image and won't investigate whether the price accurately reflects the value." […] The big idea is that Prestige pricing seemingly convinces customers "there is added value for the cost, and it takes advantage of the buyer's assumption that one brand's product is of a higher quality than the competitors because it costs more."
So, Which Listing Pricing Strategy Is Most Effective? Charm vs. Prestige…
Depends on who you ask, but if we head back into the realm of research, Realtor Magazine notes the best option is supported by a 2016 study by the Journal of Housing Research. "Set the asking price just below a round number – that's the best technique for pricing a home for sale," they write.
Amazingly, the researchers uncovered the following zinger: By utilizing a charm strategy, or "just below asking price" strategy, yields a selling price that is about 2.5 to 3% higher compared with a rounded-up pricing listing strategy.
With all this in mind, it's easy to see how important it is to—not only choose a San Diego realtor with extensive expertise in the market you're looking to buy in—but more importantly as a seller looking to unload a home in one of the most volatile housing markets: California. Take time to choose a San Diego agent who understands how to analyze pricing trends, understands the ebb and flow of pricing trends in your neighborhood, and choose someone who can help you sell your home for the best price with a smart strategy in his back pocket.
How to Prepare Your Home for Sale: Buyer Viewings 101
Buyer viewings are the very beginning of your home-selling journey, and they're important because these viewing are the first 'physical' impression of the home that a potential buyer receives.
One important piece of advice agents on Team Steele offer to sellers is to declutter and stage your home so that buyers can envision themselves in the space as they tour. It's time to take down any personal items from walls and side tables, bedrooms etc. Store those family photos, wedding albums, baby toys and personalized mugs. We like to distance the home as much from the seller as possible so that the buyer can picture themselves in the home as their own.
For instance, setting up a little nook area with a soft blanket draped over an armchair with a few stacked novelas and an empty coffee cup on a tray can go along way to helping set-the-stage for the potential buyer. You want them imagine themselves feeling cozy and content in your home.
Keep it simple and try these great tips from "Preparing for a house viewing as a homeseller—for Dummies:"
"Take out the rubbish.
Clean out cupboards and wardrobes.
Hire a steam cleaner to remove carpet stains.
Hide the trinkets cluttering the shelves.
Remove extra furniture and put it in the garage (or into storage) to make the rooms appear bigger.
Broken drawer handles, cupboard doors hanging off their hinges, and missing bathroom or kitchen tiles create a poor first impression.
Paint grubby walls, or those in dark or unusual colours, in light, neutral shades.
Prospective buyers often flush the toilet and will notice leaky taps. Make sure you replace washers, if required, and fix the toilet, if needed, before showing anyone round your home.
Check all windows, curtains, and blinds. They should be clean, unbroken, secure, and operate properly.
Matching sets of fluffy white towels give a much better impression than odd, tatty, or dirty towels."
Staging Your Home For Buyer Delight
There are several home interior trends that are truly—out! Some of the most well-known home style no-nos are: wallpaper, carpets, loud wall colors… Investing in getting rid of these outdated accents could yield a great return for the seller.
4 Insights to Help Sellers Stage Their Home for Buyer Delight
There are several home interior trends that are truly out! Some of the most well-known home style no-nos are: wallpaper, shag carpets, loud wall colors, and the like. Investing in updating these outdated accents could yield a great return for the seller. Staging is an excellent way to help this along as it can improve the buyer-viewing experience when your real estate agent begins buyer showings.
The National Association of Realtors® (NAR), performed a survey in 2015 to understand the manner in which realtors philosophize the practice of home staging, and what they discovered was that 32% of buyers' agents believe that staging a home does indeed increase the dollar value of the sale price upwards of 5%.
But 16% feel staging can increase the dollar value buyers are willing to offer by 6% to even 10%!
On the other end of the sale, 22% of sellers' agents also believe it increases the dollar value buyers are willing to offer by 6% to 10%.
Below are additional statistics regarding the effectiveness of homestaging:
Additional Ways Steele San Diego Homes Promotes Customer Listings
We create a specific marketing strategy for each and every listing because, like your home, each client is unique, which is why we believe your listing should shine in its own special way.
Here's a list of some of our favorite marketing techniques:
360-Degree Property Walk-Throughs
What Is It? A 360° virtual tour is an excellent technique we frequently use as a tool to sell a home. It gives a potential buyer a convenient way to shop around. As they sit on their couch, they can "walk through" the home, seeing all aspects of it from flooring to lights on the ceiling.
Why Does It Work? When you give potential buyers access to remotely tour the home at any time of day, it will put your property a step ahead of the competition by making your property much more accessible than other homes on the market. It's also a very new marketing tool, so many buyers opt to view the home with the 360° tours.
Social Media – Facebook, Instagram, Etc.
Aside from marketing listings online on our website, the MLS or on sights like Zillow, Redfin or Trulia, we also focus our marketing efforts on social media platforms such as Facebook and Instagram. Over the last 5-10 years, the number of buyers shopping online for homes has exploded and social media has become interwoven with our daily lives. Marketing listings on these platforms offers a way to get your listing directly in front of potential buyers. Not only can you get more exposure, you can also have more fun with it. Marketing on these platforms rewards creativity and thinking outside the box.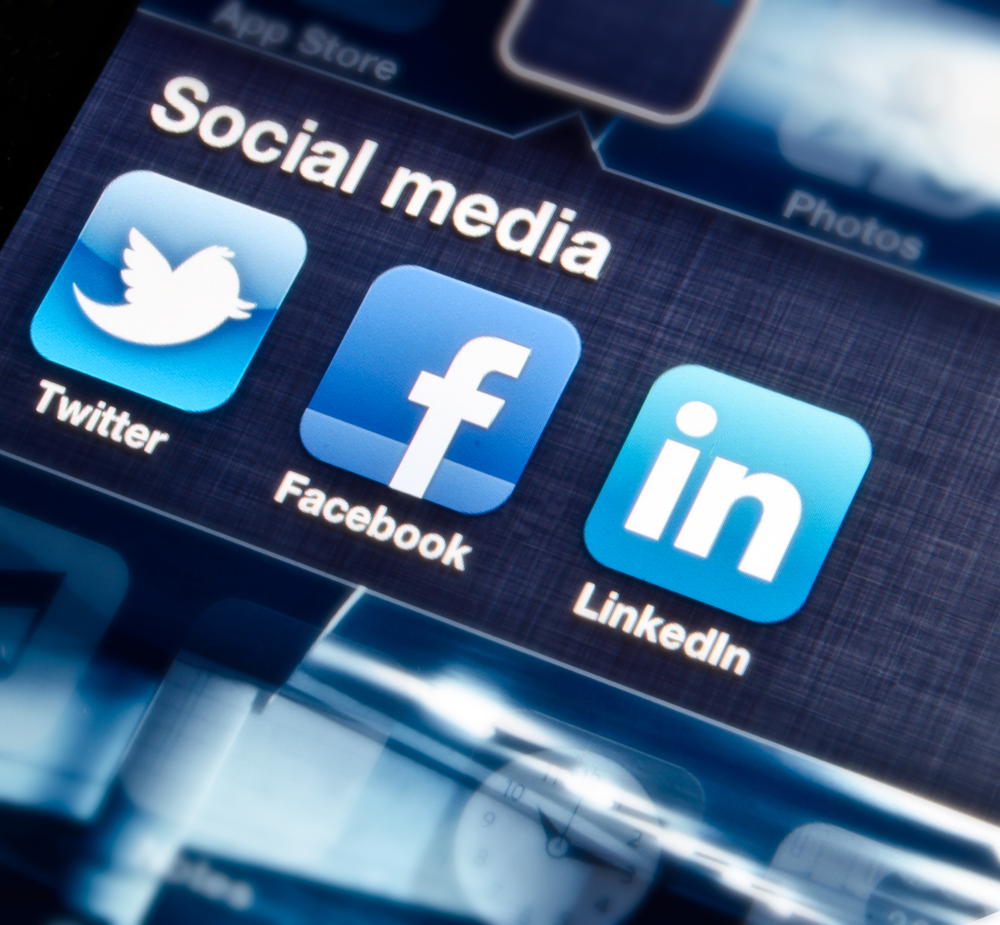 Facebook Live!
What Is It?  Facebook Live is a very hip, modern way to do a showing live right from your phone to showcase on your business Facebook Page.
Why Does It Work?  Facebook ranks these videos so they tend to hover in the top of the main feed, which is pretty darn cool for you as a seller. Also, you can allow these Live Showings to be viewable as a basic video post so you can recycle the video if it's yielding a lot of views and interest and post it again and again as a regular non-Live video.
Snapchat
What Is It? According to Resaas.com, Snapchat is a video and photo messaging app/social network. You can take photos and videos, add text and drawings on top of them, overlay the time, temperature, or add cool graphics on top and send them to your friends and followers. These photos and videos are called 'Snaps.'"
Why Does It Work? As an agent, you can set a time limit for how long recipients have to view their Snaps (from 1 to 10 seconds) before they disappear forever—which is a perfect way to reach the 25-and-over demographic who are used to on-demand experiences that they can control.
Online Web Presence
What is it? Realtors greatest strength lies in the power of their website. There's an immense amount of value in putting the time and effort to optimize your website for Google search, according to a recent study by Google and the National Association of REALTORS® in January 2013. "The study found that 90% of home buyers search for homes online, with real estate–related searches on Google up 253% in the four years prior to the study."
Why does it work? As indicated by the research, the reason optimization works is because of the nature of the techniques. For instance: Using local terminology helps your listings rank; providing content via a blog or an email drip that lures readers into your site, such as neighborhood spotlights (a technique we use!); and making your site mobile-friendly are all effective techniques to grow your success. Best of all, it helps potential customers search and find what they're seeking—properties and your site is the lynchpin that holds it all together. A heavily trafficked website also means lots of exposure for your listing, especially if featured on their home page!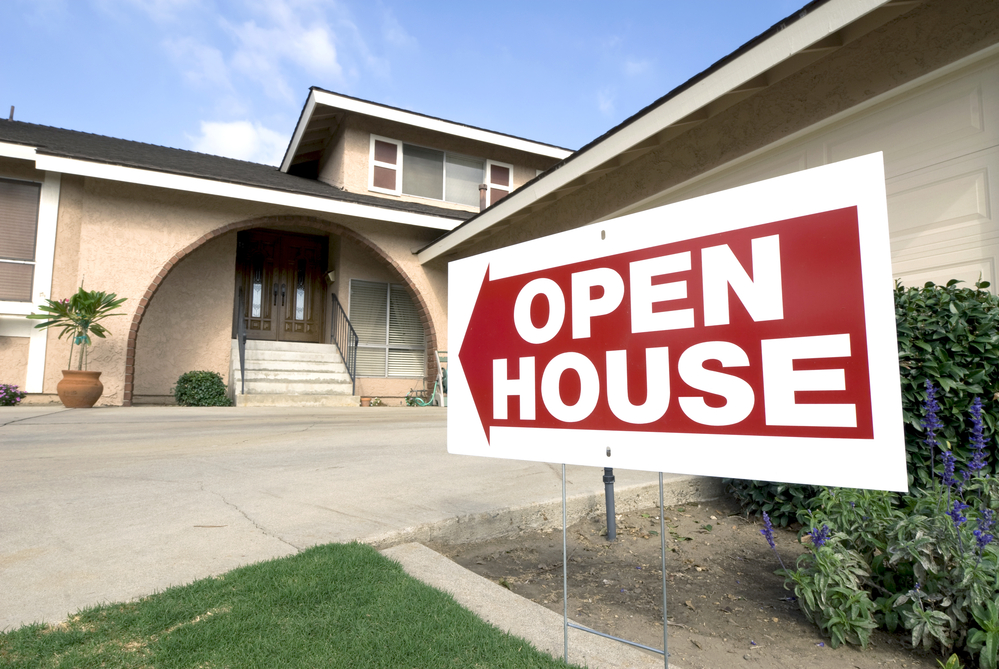 Staging
Staging is hands down one of the best ways to increase the value of your home and help you to get top dollar from a sale. Having a property vacant and staged will have the home looking like a magazine, giving prospective buyers ideas on how rooms could look and be used and also help to distract buyers from some of the potentially less desirable features of the property. In our experience, staging can often help a seller to get $20,000-$100,000+ more for their property than if they didn't stage. For higher properties at higher price points, staging is almost a must if you really want a successful sale.
Pitching Listings at Broker Opens
What is it? Broker opens have many different names: Realtor Caravans, MLS Tours, Real Estate Agent Previews, or Real Estate Broker's Open House are additional common terms. Whatever descriptor you or your agent choose, broker opens are an excellent way to promote your home. How they work is relatively simple. At Steele San Diego Homes, working with John and Melissa Steele, your broker opens involve a tour of your listing for listing agents. Basically, this affords your agent the opportunity to showcase the seller's home and encourage other real estate agents to preview the home for their buyers.
Why's it work? Some of the main reasons it works is: (1) Realtors can identify market trends for their home sellers; (2) Brokers can gain an understanding of the competitive landscape regarding how price is affected by locale, size of the home, etc. (3) One can gather info via networking with other brokers to see if there's listing their buyers or sellers are interested in, as well. According to Investopedia, "When an agent sees that your home might fit the needs of one of his or her clients, he or she can pass on the information about your listing. For each agent who tours your home, you gain potential exposure to a number of that agent's clients who might be interested in your home." Sounds like a win:win.
Sellers: How to Negotiate Purchase Offers
Sellers and buyers are intrinsically at odds with one another; sellers want to score the highest price, while buyers want the lowest on the best terms! Makes sense, right?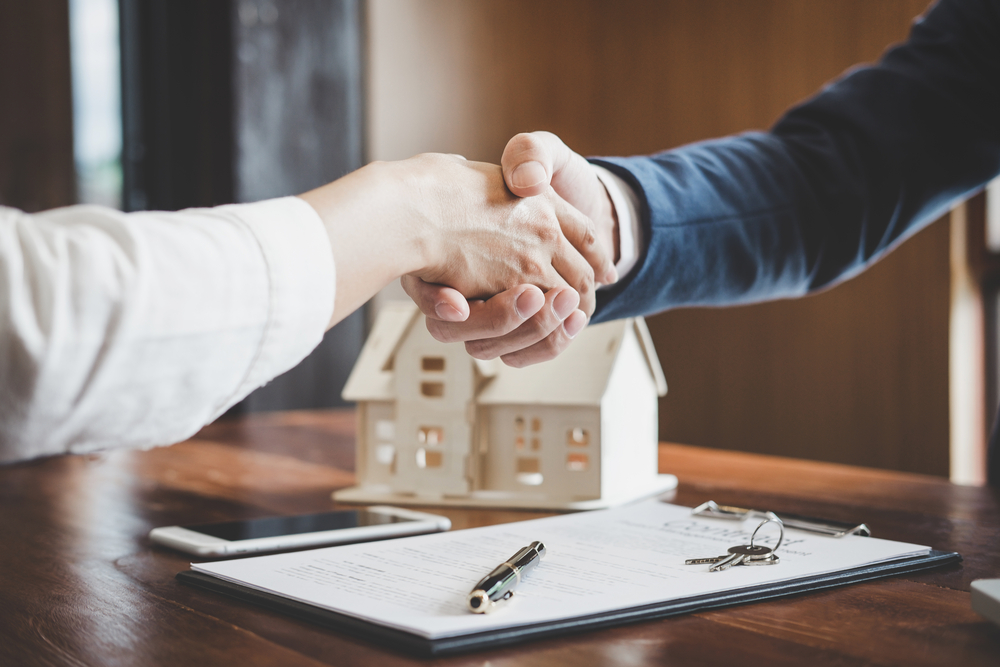 But, sellers in particular should consider the following issues and dynamics. The National Association of Realtors offers the following scenarios and points to ponder:
Will you, as a seller, disclose information about one buyer's offer to make a second buyer more likely make a full-price offer? Or could that encourage the second buyer pursue a different   property?
Will telling several buyers that each is being given a chance to make their "best offer" result in spirited competition for your property? Or will it result in the buyers looking elsewhere?
What's fair? What's honest? Why isn't there a single, simple way to deal with multiple competing offers?
At Steele San Diego Homes, we realize what a 'dance' this can be, which is why we remind our clients that the listing broker represents you the seller. This means that you are the one we are negotiating on behalf of, not the buyer. This also is a matter of state regulation and real estate agents are required to keep their customer's interests at heart.
In fact, any reputable real estate professional should understand and adhere to these regulations, always. The National Association of Realtors (NAR) "Code of Ethics" obligates realtors to be honest with all parties; to present offers and counter-offers quickly and objectively; and to cooperate with other brokers. Cooperation involves sharing of relevant information."
Negotiation Essentials for Sellers
Sellers: Is the Price Right?
Obviously the dollar-sign is the most important aspect to home-buyers but more importantly: of you, the home-seller. "Buyers don't want to overpay or price themselves out of a resale in the future," explains Andrea Murad, a real estate investment specialist, "While sellers want to make sure the deal makes sense for their financial plan."
An experienced real estate agent will take stock of your area, your goals and find the right price point for your home. The key? Price it just-right to attract buyers and potentially drive up the cost.
The biggest mistake most sellers make, especially in a hot market, is that they put their home on the market too high. "Sellers and agents often think, 'If the home doesn't sell for this price, I can always lower it later,' explains KeepingCurrentMatters.com. "However, research proves that homes that experience a listing price reduction sit on the market longer, ultimately selling for less than similar homes."
This is where having a seasoned agent who understands competitive analysis and can look at the lay-of-the-land in your neighborhood and offer you a good price range that promotes a SALE is so important!
Sellers: What's the Deal With Closing Costs?
Closing costs are important to keep in mind as a seller. Don't forget to factor these costs in when calculating your potential net proceeds.
Realtor.com explains the common mistake many sellers may make: "You may be estimating that you can sell your property for $750,000 and pay off your $500,000 home loan and reap a $250,000 benefit." This skips over a lot of the transactional costs that come with selling.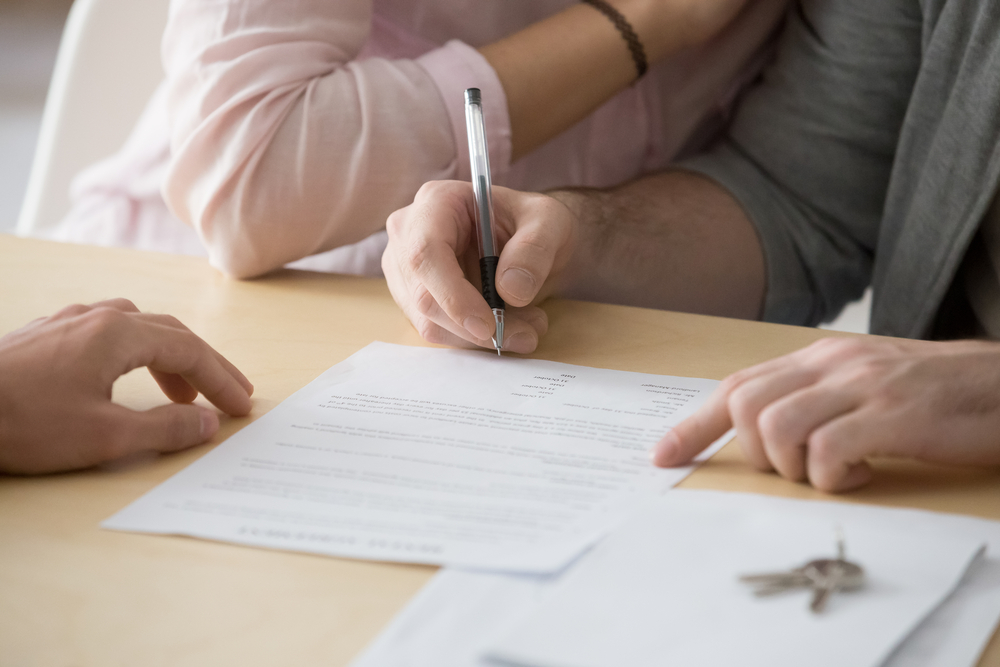 Sellers: The Process of Evaluating and Accepting Offers – Explained
You've received an offer, congratulations! Perhaps you've even received a few. You'll notice very quickly that there is a lot more to an offer than just a dollar amount.
So, What happens next?
According to Owners.com, "As a seller, you should evaluate the overall strength of the buyer's offer before accepting."
You should evaluate the offer terms to see if this is an offer that you want to accept, counter, or reject. Your real estate agent will be there to support you in the offer review process. Some of the more important terms that are often discussed, aside from the price, are financing, length of escrow, contingencies and contingency periods. While an offer can be attractive from a dollar perspective, it may not be as strong if the offer includes terms that may not appeal to you.
With Team Steele, our agents our committed to ensuring that our clients always understand the offers they receive. While price point is important, there are other aspects of the offers, like terms, time periods, deposit amounts, etc, which affect the strength of an offer. Understanding all of this is hard, which is why we're here to guide you through the process.  We'll take the time to explain everything thoroughly, answer any questions you may have, and advise on what offers we think are stronger to come up with a strategy together.
We want your home-selling experience to be as rewarding and enjoyable as possible, so we're happy to do as much as we can to alleviate any stress or anxiety around knowing what to do!
Congratulations, you have an accepted offer!
It's time to go pending and for your agent to open escrow.

Once both the buyer and seller have come to an agreement on price and terms it is time to open escrow. Your real estate agent will share the contracts and documents with the escrow company who will then open a file. During the transaction, escrow acts as the third party and will hold the buyer's deposit. No funds are dispersed until all parties have fulfilled their contractual agreements or the transaction is canceled. Here in California, escrow companies are used. However, there are states where real estate attorneys are used.
A title report will also be pulled for title insurance to ensure a clean transfer of title. Title insurance is required for any buyer that is purchasing with financing and is something that is recommended for any property owner.
Sellers – The Escrow Process
After opening escrow, the buyers will begin to conduct their due diligence. Most buyers will choose to do a general home inspection and, depending on what is found, may also choose to bring out additional specialists or gather reports. Aside from the buyer conducting their inspections, as a seller, you are required to complete disclosures which are to be shared with the buyer. There are a number of disclosures that are required in California, which is another reason to work with a reputable agent. You do not want to expose yourself to unnecessary risk for failing to disclose something about the property.
If a buyer is using financing, there will also typically be an appraisal that is done. This is a third party in the transaction, with no affiliation to buyer, seller, or their agents. Their job is to give an unbiased opinion of the current value of the property. Depending on the results of the appraisal and what terms were agreed upon in the offer, this may open up a round of negotiations if the appraisal value comes in lower than the offer price.
After a buyer completes their inspections and reviews disclosures they may decide to submit requests. These requests could be for certain repairs to be completed, a monetary credit, a price reduction, or a combination of those. Your real estate agent will be able to guide you through these requests and to evaluate if they are something that you should entertain, or try and renegotiate. While you may not always agree with a buyer's requests or feel that they are reasonable, it is important to keep the big picture in mind. It's usually not in a seller's best interest to lose the sale over a minor repair or a small request.
Seller – What Happens at Closing?
So you're at the finish line, congratulations! At this point the buyers have committed to the purchase by releasing contingencies and everyone prepares for closing. Escrow will coordinate with the buyer for signing documents and for the final funds to be paid. If the buyer is purchasing with cash, they will send escrow all of the funds required for closing. If the buyer is using financing, the lender will fund the loan and the buyer will send the remaining funds needed for their down payment and closing costs. Once escrow has confirmed receipt of the funds and has confirmed that all parties have fulfilled their contractual obligations, they will release the file for recording with the local city or county. Once recorded, the buyer officially becomes the new owner and the title is in their name.
How Real Estate Agents Support Home Buyers
Thinking about buying a home in San Diego? In this section we'll take you through the entire buying process from start to finish. We'll also share how working with an agent from Team Steele can help you to achieve your home buying goals.
Understanding the Home Buyer's Journey
Buying a home can be incredibly exciting, and at the same time, incredibly scary — but it doesn't have to be! Experienced real estate agents understand how to help you navigate the real estate home buying process and all of its intricate steps and paperwork along the way.
Homebuyers typically go through a 4-phase process: Getting Started, Research & Home Viewings, Consideration & Offers, Decision & Escrow
Understanding the complexity of your journey to becoming a homeowner is something we pride ourselves on. Throughout this section, we'd like to create a timeline (of sorts) for those seeking to understand the process of buying a home so you can feel completely confident when the time comes to finding your next property!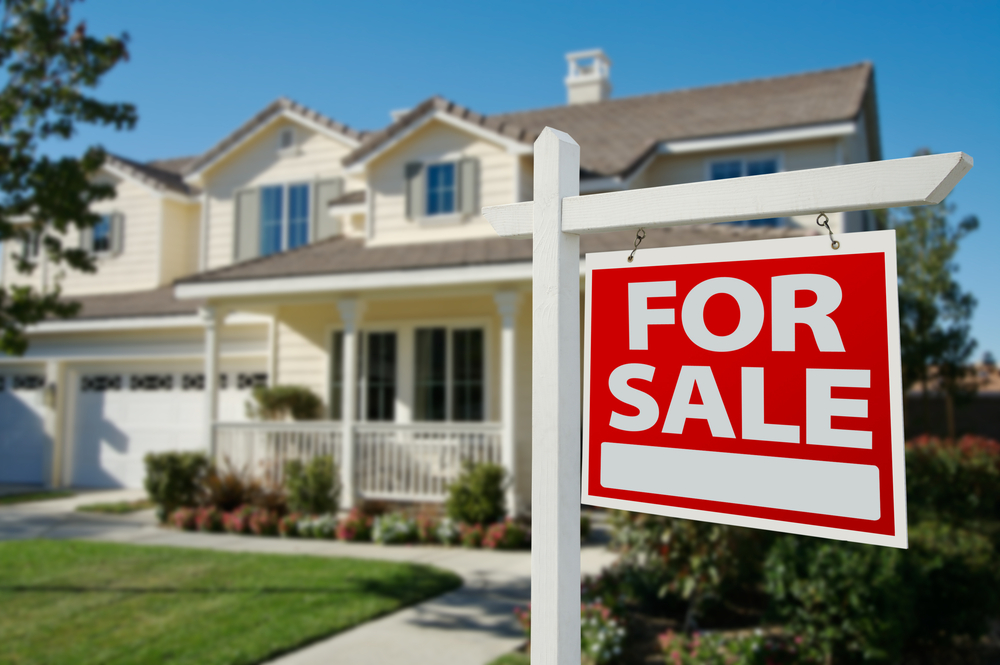 Phase One: Getting Started!
To begin, you as the buyer are going to have a lot of questions, internally or to others, to figure out if now is the right time to buy. These questions tend to be along the lines of: "I just got married / had a baby / got a new job—and I think I'm ready to buy a home. It's time to call a realtor…"
This first phase of the homebuying journey is also a time of deep contemplation. You may be considering what area of San Diego County is best suited for your needs. There are also other factors such as price, schools nearby, local job availability, traffic, crime or neighborhood safety, the economics of the surrounding area, and more!
During this phase you may be wondering what comes next, how do you even get started?
First Step: Get Pre-Approved by a Lender
Many people may tell you that you should reach out to lenders to get pre-qualified. However, because of the competitiveness of the San Diego real estate market, it is far better to get Pre-Approved instead.
Why get pre-approved over pre-qualified?
Well, first thing you'll most likely do is work with your lender to fill out an official mortgage application. This will involve a lot of time and effort as the bank will want to see the full picture of your finances, everything you own, rent, buy, sell, income verification, and on and on.
Also, from Investopedia, "With pre-approval, you will receive a conditional commitment in writing for an exact loan amount, allowing you to look for a home at or below that price level. Obviously, this puts you at an advantage when dealing with a potential seller, as he or she will know you're one step closer to obtaining an actual mortgage."
This whole process is can be eye-opening for first-time homebuyers. You'll now have a complete view of what you can afford in actuality, as well as what your interest rate range will be. Sometimes they may even be able to temporarily lock-in an interest rate! Also, as a buyer in San Diego, it's important to note that because the market is so aggressive and homes get offered on quickly, some sellers don't even allow buyers to view their homes without a valid lender pre-approval.  It's important to have your ducks in a row with lending before you get out looking. (And remember, Steele San Diego Homes can help you find the right mortgage professional if this all sounds Greek, that's what we're here for!)
Phase Two: Research
As our clients get closer to really looking for a new home, we often find that they're already doing a lot of research on their own online. Using tools like Trulia, Redfin, and the like, most potential homebuyers are pretty adept at searching public-facing MLS sites (just be wary of out-of-date information on syndicated real estate websites). We also have a San Diego MLS that you can search through on our website (which offers real-time MLS data, no out of date info there)!
If a buyer is already sure of areas in San Diego County they're interested in, and have a decent understanding of the demographics, school ratings, affordability of their chosen area in regards to their income, and other details they're comfortable with, we can usually start showing homes immediately.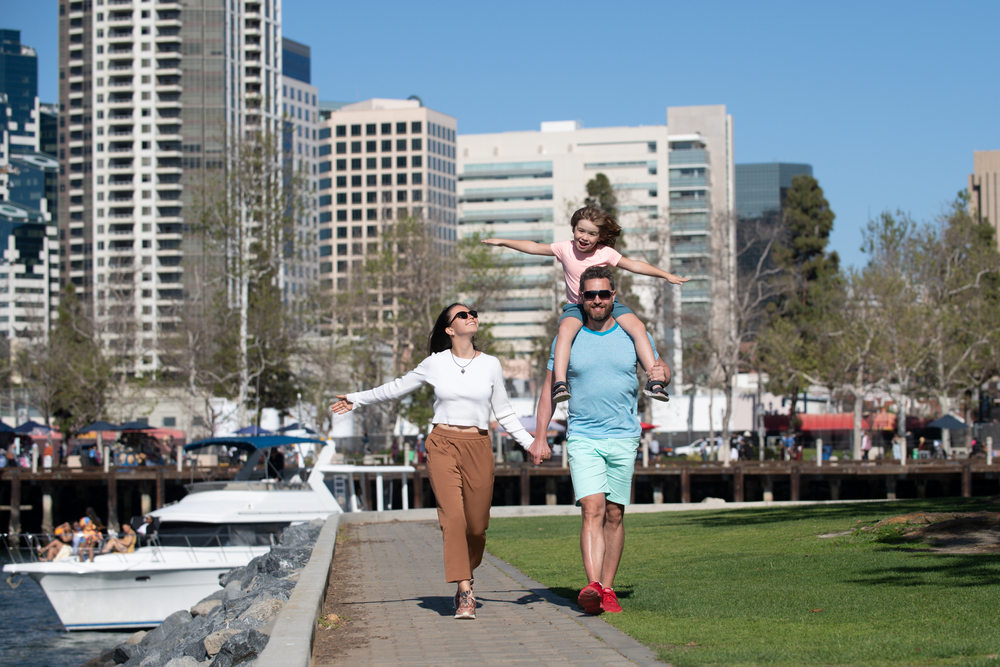 If you're not quite sure yet what you're looking for, here is a great place to start our discussion over a cup of coffee:
What neighborhoods have you considered and why?
Does your home need to be close to work?
In a good school system?
Have a certain size yard?
Have a minimum of bedrooms and bathrooms?
Be within a certain distance to recreational areas, such as parks?
Be in a quiet neighborhood away from busy roads?
Have central Heating and Air?
Starting with your needs (absolutes) and your wants (negotiable) will ultimately allow your real estate agents to find you what you want faster!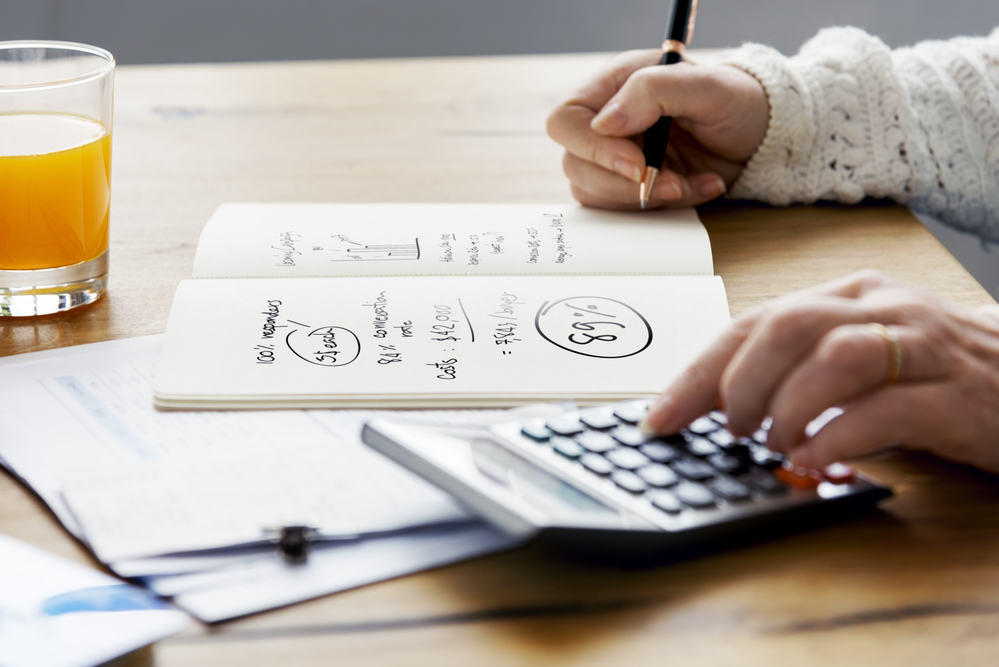 Is the Price Right?
When you've found the perfect home and it comes to making offers, you may be wondering what the right price is to offer. At Steele San Diego Homes, we believe in basing decisions off of facts, and are committed to discussing property valuation and providing all buyers a comprehensive Comparative Market Analysis (CMA) for the home they are considering.  This takes into account other comparable properties that have sold nearby in the last 3-6 months that are of similar size, condition, and value. It is the best way to evaluate the value of the home you're considering because it helps you to determine the value of the home based on others that have recently sold.
Investopedia offers a robust definition of what this actually means, in layman's terms: "Comparative market analysis is an examination of the prices at which similar properties in the same area recently sold. Real estate agents perform a comparative market analysis for their clients to help them determine a price to list when selling a home or a price to offer when buying a home."
Understanding Homeowner Association Fees 101
Some properties in newer neighborhoods in San Diego have Homeowner Association (HOA) fees. Oftentimes buyers think condos and townhomes are the only properties that have HOA fees, but this simply isn't true, especially here in California.
Planned communities and housing developments that have sprawling homes on winding cul-de-sacs can indeed have HOA guidelines and fees associated with the purchase. The HOAs in these communities occasionally feature community amenities like a pool and playground, but sometimes the HOA simply manages common area maintenance while offering HOA guidelines and Covenants, Conditions & Restrictions (CC&R's) to keep the neighborhood looking trim.  The best way to avoid the shock of an HOA fee on a single family residence is to work with a San Diego realtor who understands what HOA rules demand for the current property you're thinking of putting an offer on.
At Steele San Diego Homes, we always take a good long look at HOA documents, CC&Rs, and HOA financials during our due-diligence period in escrow. You want to understand the extra cost, as well as the regulations that could prevent you from doing certain things, such as parking an RV or boat in your driveway or similar restrictions before you sign on the dotted line.
What's the Deal With Closing Costs?
To fully understand your budget, you should also consider your closing costs.
Before you as a buyer can purchase and officially close on your new home, you must pay closing costs for the mortgage and real estate transaction. This is money that is calculated, pro-rated, and totalled at the end of the transaction, and it includes fees from escrow and title, appraisal costs, transactional fees, and  lender fees, for items such as taxes and insurance.
According to Moneycrashers.com, "Having to come up with both closing costs and a down payment out-of-pocket is more than some borrowers can handle. In fact, these expenses alone cause many to put off buying a home. However, if you have money for a down payment, don't let closing expenses crush your dreams—instead, strike a deal with the seller to pay for your closing costs."
The realtors at Steele San Diego Homes can help you figure out the best budget for you by working with you and your lender to look at all the costs associated with homes in your price point.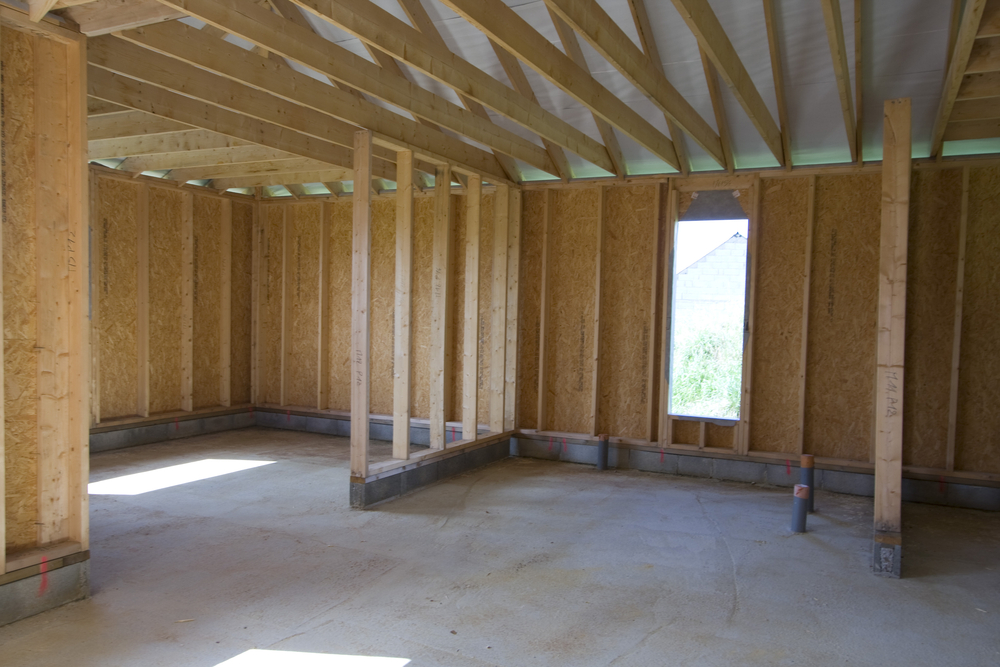 The Devil's in the Details
One of the biggest benefits with working with a real estate agent to buy your home is that they know how to research the property's history. You don't want to buy a home (at least unknowingly) that once experienced terrible floods, an electrical fire, or even a death. Obviously those are some more extreme examples, but you catch our drift.
"One huge factor that comes into play when buying a home without a realtor which we've seen time and time again is the fact the buyer does not know the history of the property," explained Sherry Bender of Affiniton, LLC. "We work with property owners who have purchased a property and later find out the place was used as a meth lab. In some states, Realtors are now required to disclose whether a property was a 'meth home', but that is of course assuming even the realtor knows. If it's a private sale, there's even more of a chance this fact would not be disclosed." Not knowing the history of the property could be disastrous!
Another research matter might be tricky, too: How to effectively research the community you're looking at. In San Diego, gentrification has taken many areas of the city by storm and neighborhoods that were once downtrodden, riddled with crime and undesirable, are becoming trendy and desirable hot spots.
North Park, University Heights, Normal Heights, Allied Gardens and South Park or Golden Hills are up-and-coming neighborhoods that require a savvy real estate agent who understands the lay-of-the-land and how to ascertain the best home—for the best price. Without a smart local agent to be the Robin to your Batman, you might lose your edge when negotiating.
Phase Three: Consideration & Offers
The Consideration phase is where the pace heats up. When our customers are in this phase of the homebuying journey, it's usually only a 30 to 45 day cycle before they choose a home to put an offer in on.
During this delicate time, we at Steele San Diego Homes help begin by preparing buyers for what to expect. We have a variety of PDFs, blog posts, and the like to share with them so they can make a more informed decision. Content is our sidekick during this phase so we make certain to offer enough education to help you feel good about the choices you're about to make.
What we have seen, time and again, is that the benefit of having a trusted agent by your side helps you to better understand the ins-and-outs of the offer, the counter-offer, competitive analysis of the surrounding area, how to handle bidding wars, concerns about inspections and the like—all integral aspects of consideration. During consideration, potential buyers are looking to their agent to give them solid advice, and to feel a strong relationship of mutual trust is building. We make sure to do just that.
How We Negotiate Purchase Offers
Buying a first home, or even a second, third, or fourth one, is quite an exciting time, no matter what the scenario. It's one of the biggest investments we can make in our lifetime, riding alongside your education and/or having children and marriage.
One important thing to always be aware of, is that price negotiation is the most important aspect of this journey. Brick Underground, an online "survival guide" for buying, selling, renting and living, offers up some great advice that hits home:
One of the best tidbits they offer is the following:
"Buyers tend to talk too much in the presence of the [listing] agents about their financial information before they even make an offer," says Maria Pascal of Douglas Elliman.  "This information is best left confidential and should be handled by their real estate broker."
"Even when buyers have brokers, they like to go to open houses themselves. And when you go to an open house, the seller's broker is often looking for indications that could make it harder for you to leverage anything in a negotiation," says Ian K. Katz, of Ian K. Katz Group, whose firm focuses on working with buyers. "I tell my clients to leave emotive responses and even questions to themselves."
This all being said, we don't encourage "paranoia," but it is important to understand the competitive nature of the price negotiation 'dance.' Once this level of caution is understood, we here at Steele San Diego Homes can offer tips for buyers to help make their home-buying journey more smooth, and hopefully enjoyable.
The Art of the Counteroffer
Remember, as we've noted throughout this series, the San Diego real estate market is highly competitive as there's not as much supply as there is demand. That being said, the art of the counteroffer is something we feel we have mastered.
What we encourage our clients to do during this negotiation process is to respond to counteroffers from the seller as quickly as possible so another buyer doesn't swoop in and create a mini-bidding war. (That being said, oftentimes in this market, you may inadvertently be in a bidding war as soon as you express interest with an offer.)
HGTV offers another tip, "A seller's mere perception of a hint of a whiff of the scent of a potential bidding war is a homebuyer's number one nemesis, ratcheting up the possible sales price in the seller's head on an exponential basis." So, in a sense, buyer-beware, and be smart–and move fast if you think you've found "the one"!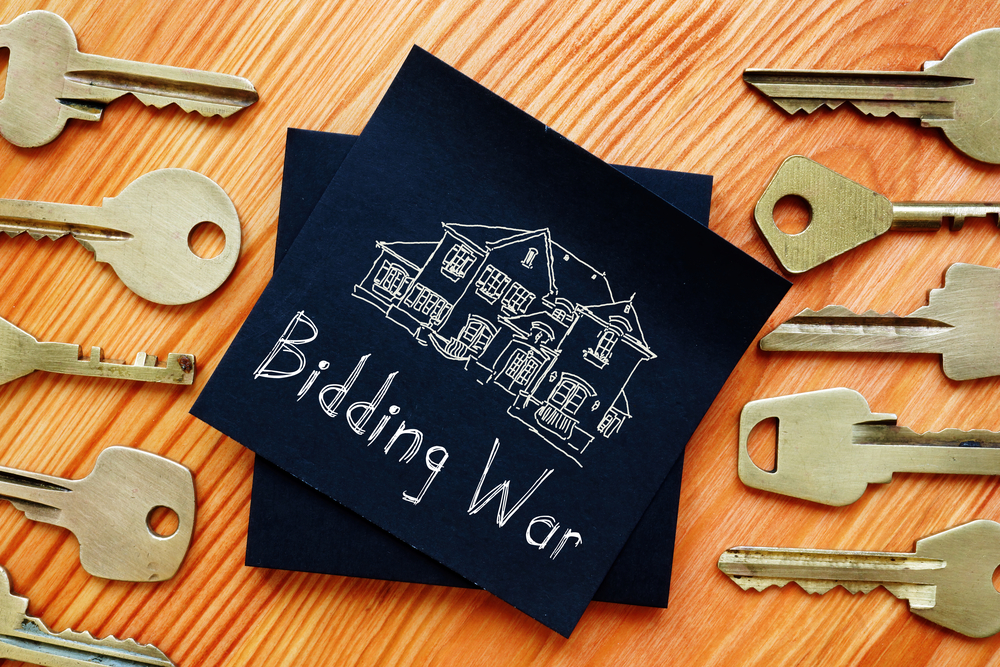 Bidding Wars 101
In the current market, as aforementioned, buyers could be caught up in highly competitive bidding wars. Price is obviously the biggest factor for a buyer, after they've decided that the home they're putting an offer on is the one they truly want. But it's important for buyers to be guided by a seasoned agent who understands price negotiation to maximize their chances of snagging the home of their dreams for the right price. After all, while price may be the most important factor for the buyer, it may not be for the seller.  Price and wanting the "highest and best" offer for their home is a priority for sellers, don't get me wrong.  However, terms within an offer can make a big difference as well.
Here are some pointers for price and terms negotiation that all homebuyers can benefit from:
Low-balling the Offer: If you have a trusted agent who has researched the neighborhood and similar homes in the area that have sold recently as compared to the one you'd like to put an offer on, don't make this mistake. Have no fear though, you can always hope the seller counters your low offer if they don't bite initially and hope for the best. Everyone makes mistakes during their first home-buying-rodeo, so take every experience as a learning one.
Write an Offer Letter to the Seller: This is your opportunity to sell yourself to the seller! As crazy as that sounds, writing a letter introducing yourselves and what you love about the home is an excellent way to build rapport, as you share your personal story as to why you're interested. Tell them it's your Dream Home, tell them about your children or pregnancy, explain how much you love the home and hope that you can convince the seller that you are emotionally invested in the home.
Come up with your Highest and Best Offer Initially – In both terms and price: In an aggressive market like the one in San Diego, we are always encouraging our clients to come up with their highest and best offer initially. We don't see many counter-offers, and when we do, it's usually a response to multiple offers and is asking for highest and best price.  Instead of doing this dance with the seller, we encourage clients to sit down and really figure out what the best price they are willing to buy the property for is, and what terms they are willing to amend to make more aggressive.  We never want a client to feel disappointed in one of two ways the day after making an offer.  You don't want to feel disappointed finding out another offer beat yours by $1000 or $2000.  Yes, this would be bummer news to receive, but if you came in with what your highest and best offer truly was, the home was not meant to be.  On the opposite side, you never want to feel disappointed as if you are over-paying for the home by coming in with your highest and best offer.  If you are using financing, your one reassurance that you will never pay over the value of the property is that the bank you are getting your loan from won't loan on a property they don't see the value in.  Financed properties are always subject to a bank appraisal to ensure that the bank finds value in the home at the price you offered.  Based on these criteria, you can truly come up with your highest and best offer, with the most aggressive terms, and be confident that if it's meant to be, the home will be yours!
Keep Your Agent Close
Whenever you have any question regarding the property, the cost, this-that or the other-thing, please, use your agent as the vehicle to ask those questions to the seller.
HGTV nails it again: "I know it seems inefficient, but it is truly a rookie move to contact the seller directly. It's just not done, mostly because the terminology is tough to master and legally sensitive. Also, some seemingly innocent and minor changes to your agreement with the seller might create problems with your lender; your real estate agent is better equipped than you to see these red flags."
PRO TIP! Let your agent do all the heavy lifting. We don't mind! It's our job to protect you, as the buyer, from having buyer's remorse.
Phase Four: Decision & Escrow
Once your offer is accepted, the final phase of the homebuying process begins.
We begin to negotiate offers, orchestrate inspections, check contingencies, and research the property's history.
In addition, during the final Decision phase, we perform most of the heavy-lifting in regards to Closing Escrow. After the home closes escrow, we like to remain close with our customers by providing them with advice about their home, such as who a great landscaper or handyman is, answering questions about what home warranties cover, and more. Let's take a look at what this final phase of the purchasing journey entails:
What is an Earnest Money Deposit?
If you receive good news that your offer was accepted, you'll have to move quickly in getting the ball rolling on the escrow period.  Once the purchase agreement is signed by all parties and officially "accepted", the buyer typically has 72 hours to get their earnest money deposit, or EMD, to escrow for deposit into the escrow account.  This deposit is typically about 1-3% of the purchase price. This deposit is then held in an escrow account until your sale goes through, or given back to you prior to lifting contingencies if you end up backing out of the transaction.
If you proceed with "lifting contingencies" here in California, you are basically "signing off" on the fact that you've done your due diligence and are comfortable moving forward in locking in your deposit. The standard time that this happens within a 30 day escrow period is typically on or around day 21, once you as the buyer have done all your inspections, received your appraisal, and gotten full loan approval from your lending team.  This part of the process is extremely important, because after lifting full contingencies, your deposit will be the seller's if you were to back out of the transaction. If the sale goes through, this earnest money deposit would be applied to your down payment (or refunded back to you if you were a zero-down buyer).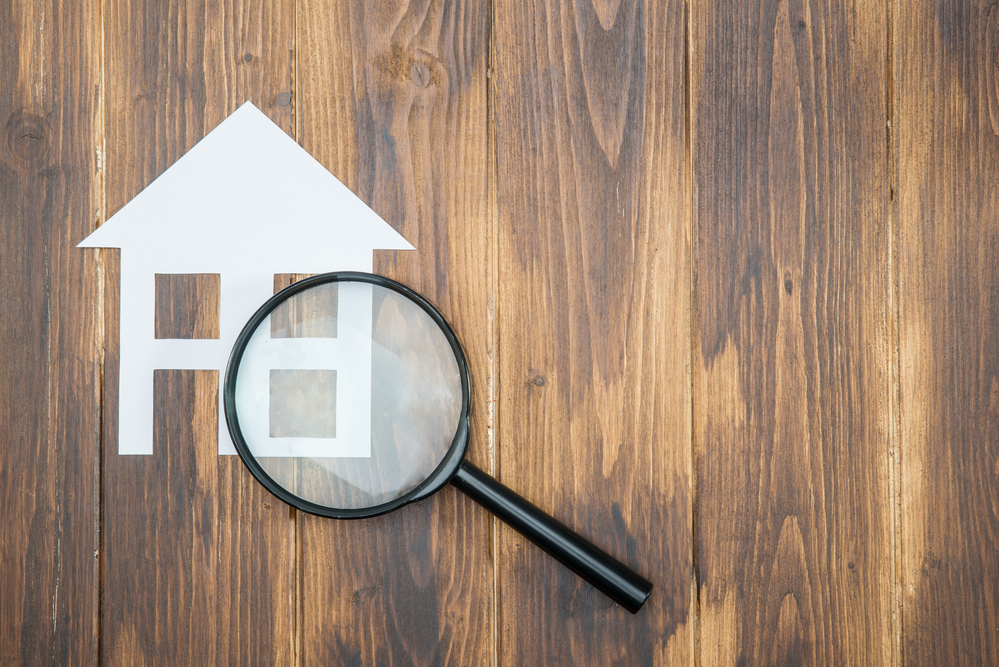 Understanding the Inspection Contingency
San Diego purchase and sale agreements include an inspection contingency on the California Residential Purchase Agreement contract.
At Steele San Diego Homes, we typically write contracts with the standard 17 day contingency period, the contract's default time period to conduct all due diligence and visual inspections, which include a home inspection. However, if the property has a lot of competition or multiple offers, we consult with clients about reducing this time period down to 10 or even 5 to 7 days, to strengthen our offer.
Another benefit we offer, is that here at Steele San Diego Homes, we're able to provide you with references to inspectors. There are a lot of inspectors in the market, but it takes experience working with them to know the best ones to use.
Many home buyers may be tempted to forego inspection to make their offer more compelling — but this is really only something you see on House Hunters! Trust us, in the case of buying home, it's much better to be safe than sorry. Plus, if you're a VA buyer, inspections and appraisals are required as part of your agreement to use a VA loan.
Should I get this (or that) inspected?
Inspections are an immensely important part of the home buying process. Even though a given real estate listing may look like your "Dream Home", inspections let you know if the appearance is only skin-deep or the real deal.
"Without an agent, you'll be on your own to determine the types of inspections you should perform. Most buyers don't know how to spot potential problems such as dry rot or wet basements, or know how to determine if a sewer inspection is necessary," warns Wientraub.
Another tricky aspect to buying on your own is the fact that many inspections require an agent to be present for inspections and appraisals. In California, a licensed agent is required to be present for when a buyer is in property and usually it is the buyer's agent…which you won't have if you're trying to go it alone.
"You may be able to get the listing agent to agree to be there for these tasks, in the interest of closing the deal. Again, everyone is different; some listing agents will be happy to go the extra mile to close the deal, while others will insist on at least a partial cut of what would have been paid to your agent," Redfin warns in its home-buying guide for beginners. Time to practice those negotiation skills…
In 2007, California Gov. Arnold Schwarzenegger signed into law, SB 223. This bill reformed the appraisal process because in years past, appraisers were pressured to hit a predetermined value for a property set by the mortgage brokers, or homeowners, to push a sale.
"The American Society of Appraisers (ASA) believes that lender pressure is an ongoing problem for appraisers and is committed to supporting legislation to reform fraudulent practices in the mortgage lending industry. The new law makes it a crime in California for any interested party in a real estate deal to pressure an appraiser to appraise a property for a predetermined amount," reports RISMedia.
Having a savvy real estate agent on your team means that you will reap the benefits of this facet of the inspection process, among other aspects. This is an important benefit to using a real estate agent as an inspection will give you a much more accurate picture of the home's condition sans your rose-colored glasses view.
Let's say that property in your dream San Diego County neighborhood may look perfect on the outside, but an inspection finds issues with the foundation. If you don't have an inspector you can rely on, you could end up with thousands of dollars of work to be done. On the other hand, if any issues crop up during the inspection, your agent can work with the seller's agent to negotiate repairs into your real estate transaction or recommend you find a different property if the seller is unwilling to compromise or find a reasonable solution.  With Team Steele, negotiations are our specialty – on the buying side we have negotiated thousands of dollars worth of repairs or helped our clients to avoid costly money pits. On the listing side, we've helped many of our sellers to achieve record setting sales for their area while mitigating their risks and additional investment needed in the home.
When buying a home, a good real estate agent will have plenty of recommendations for reliable home inspectors and inspection companies. A home inspector examines the exterior and interior of the home, electrical, plumbing, ventilation, structural, and finish elements throughout, as well as the condition of appliances that will be transferred to the buyer at the time of purchase. An inspection generally takes several hours with the possibility of there being specialized inspectors for wells, or sewage lines, and more unique home functions. At the end of the process, the inspector will provide the buyer with a detailed report of all the issues discovered during the inspection.  It is important to use an experienced and thorough home inspector, another way that your buyers agent can assist – agents use inspectors all the time, and know which ones to utilize and which to avoid.

Homeowner's Insurance 101
As you are now nearing the finish line, we advise our clients to not only obtain homeowner's insurance, but also hazard insurance if you desire. For instance, in San Diego, although earthquakes and fires are not super frequent, these insurances may be required for closing depending on your location. Adding extra coverage for unforeseen hazards or the wrath of Mother Nature is never a bad idea.
In tandem, you will also want to review your title report with the title representative, and obtain title insurance. The agents of Steele San Diego Homes help you review the property history thoroughly to make certain there are no liens against it which could prevent you from purchasing. However, oftentimes we do suggest obtaining title insurance to protect you and your lender against something that perhaps didn't surface during our title report review.
Take a Final Walk-Through
One smart step we encourage our clients to take is one last walk-through of the property.
For buyers, this is especially important if there was a significant amount of time in between your home inspection and the seller move-out date.
One never knows if the seller threw a crazy kegger to say adios to their old home, or if during the moving process, some damage occurred. This is also a good time to double check that repairs you've requested have been made. It's your opportunity as the buyer to ensure that the property looks the same (or as close to it as possible) as when you made your initial offer and that the seller upheld all their sides of the agreement.
Whatever the case, it's never a bad idea to give it a once-through. Even though you may not be able to backout of the sale, you may be able to have any crazy repairs that cropped up fixed by the seller.  And if they were to have thrown that rager before closing and left a disaster – you can always delay closing if needed until the home is clean and presentable.
The Last Leg of Your Home Buying Journey Explained
Right before escrow closes, you'll want to carefully review your HUD-1 Form or Settlement Statement. This is important for both the buyer and the seller, and here's why:
According to Nolo.com, "the HUD-1 provides a picture of the monetary side of the property closing. It shows all of the money transfers between you, as the buyer, and the home seller, and all of your closing costs, including the escrow and title fees, and the costs of your loan. It's a standardized form that your settlement agent or "escrowee" completed at the closing, as required for all closings involving a federally insured lender under the Real Estate Settlement Procedures Act."
Some important items that should be checked for accuracy are, of course, the actual address of the property, information regarding taxes, insurance details and especially price and the down payment amount — all of which your escrow team, lender, and agent will check as well.
Ken Corsini of BiggerPockets.com notes that this is by far the most important area of the HUD-1 Form. "I see wrong numbers in here more often than you would think. In fact, just last week I was closing on a new purchase and noticed the price was almost $5,000 above my agreed upon purchase price," Corsini said.
"It's not uncommon for an escrow team to work off of an original purchase and sale contract. However, if you've had subsequent negotiations with amendments to the contract changing the purchase price, it's important to know whether or not the closing team (or title company) has this information before generating the closing docs," he continued.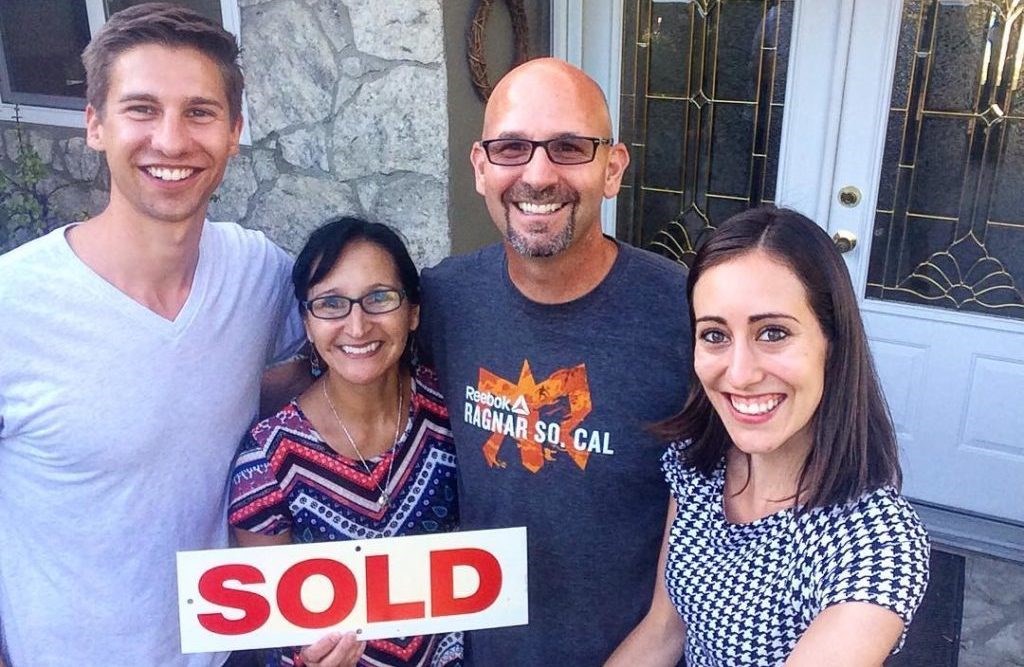 Now, It's Time to Close Escrow!
Closing escrow varies by state, but this process is cumbersome whether you're a buyer or seller as this will begin the process of building a new deed naming the buyer as the new property owner.
"After all the papers are signed, the escrow officer will prepare a new deed naming you as the property's owner and send it to the county recorder. You'll submit a cashier's check or arrange a wire transfer to pay for your down payment and closing costs, and your lender will wire your loan funds to escrow so the seller and, if applicable, the seller's lender, can be paid," explains Investopedia.
And then you're officially the owner of a new home!
With Steele San Diego Homes by your side throughout the whole process, what could be overwhelming and daunting, will be easy. We will work to explain every detail and word of your agreements so you can make good decisions on how you want your sale to turn out. And on top of that, we like to ensure that you have a pleasurable and FUN time finding your next dream home.  We are committed to your success if finding the right home and navigating the home buying process from start to finish.