The San Diego Real Estate Market
General San Diego Information
Located in the southernmost part of California lies San Diego, a large, bustling beach city with a little bit of everything for anyone. With a population of approximately 1.356 million people, San Diego is a beautiful place for anyone to call home.

Bordered by the Pacific Ocean on the west, Mexico to the south, El Cajon in the east and San Clemente in the north, San Diego is an expansive area with a diverse range of people and lifestyles.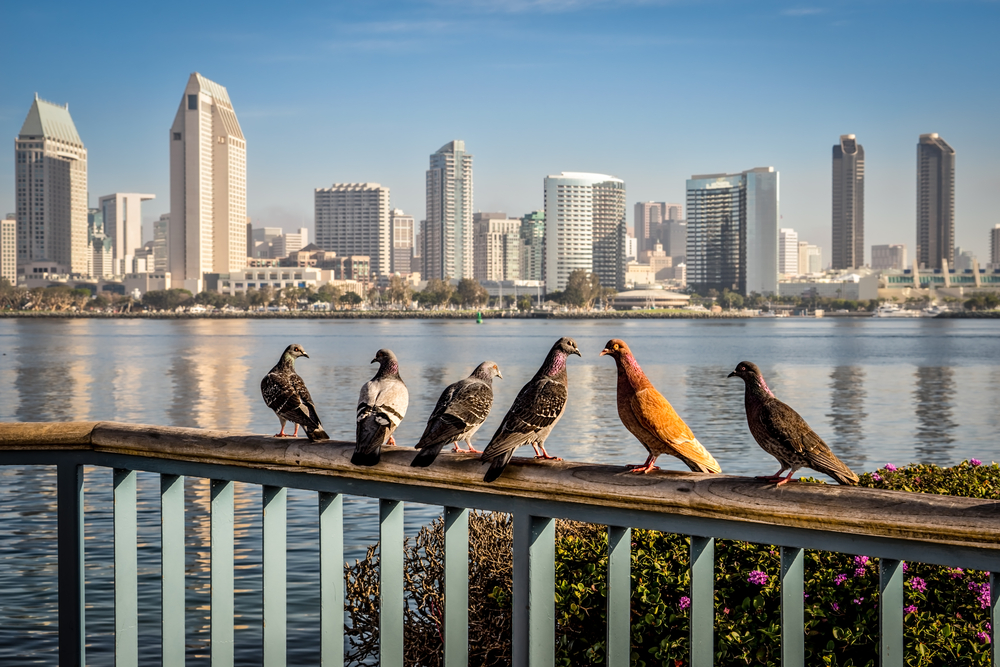 Coronado
Known for its temperate climate and sunny beaches, San Diego is a great place for those who enjoy sunshine. With average yearly temperature around roughly 64°F and the average rainfall of approximately 10.5", San Diego County has weather that some people may deem perfect.

San Diego is the second largest city in California, both in population and square mileage. With such an expansive area to cover, it's only natural for the area to be segmented into small neighborhoods. In 2008, it was voted unanimously by city government that San Diego adopt the "City of Villages" idea to help expand growth and development. Because of this, San Diego has segmented into approximately 50 different neighborhoods with different cultures to accommodate what is needed most for their residents. With such different personality and unique culture, this makes the San Diego Real Estate market one of the most diverse markets in California.
Key San Diego Landmarks That Make San Diego a Desirable Home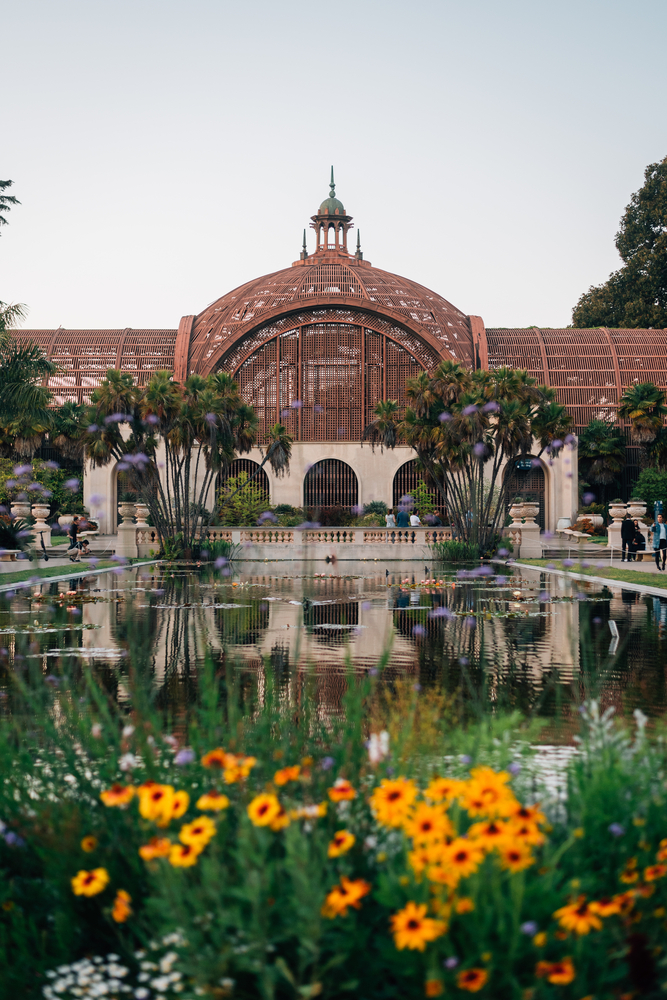 Balboa Park
Balboa Park & The San Diego Zoo
Located just east of Downtown, San Diego lies Balboa Park, an urban cultural park in the center of the city where many local San Diegans congregate and tourists flock. Home to 16 different museums, many theaters and walking paths, Balboa Park is a cultural hub and a beautiful attraction for native San Diegans and visitors alike.
One of the biggest draws to the area is the world-famous San Diego Zoo. This 100-acre zoo houses more than 3,000 exotic and endangered species and is an innovator for open-air, cageless exhibits. The unique design of the animals' natural habitats one the reasons this zoo garnered so much success over the years.
The zoo was built out of necessity in 1915 after the Panama-California Exposition, when exotic animals were abandoned after the Exposition. Dr. Harry M. Wegeforth helped establish the zoo in 1916.
Presently, the zoo actively works in conservation and species-preservation. It works to help reintroduce endangered species back into the wild and works to help conserve sensitive and threatened habitats.
Petco Park
Petco Park opened in 2004 and is home to the San Diego Padres, the city's major league baseball team. The park itself is named after the San Diego-based pet product and food supplier, Petco.
Located in the heart of Downtown San Diego, the stadium was built as part of a plan to revitalize East Village area of downtown San Diego. Before the park was built, the area used to primarily house commercial and warehouse spaces.
While known mainly for hosting baseball games, Petco Park also hosts other sports, such as rugby and golf, as well as concerts and events. Due to lack of space at the San Diego Convention Center, it's often used as an expansion for Comic-Con International, where other parties and panels congregate.
Old Town San Diego
Nestled near the intersection of I-8 and I-5 freeways lies Old Town San Diego. This historical state park commemorates the early settlements of San Diego in the 1800s. Old Town San Diego was registered as a California Historical Landmark in 1969. Some attractions of the location include historic buildings, such as a schoolhouse and a blacksmith shop, in addition to plenty of gift shops and restaurants in the area.
One of the biggest draws to Old Town is the ease of transport. Centrally located, with access to the trolley, bus, Coaster and Amtrak, Old Town is an ideal, central hub for travellers and commuters to stop and take a rest.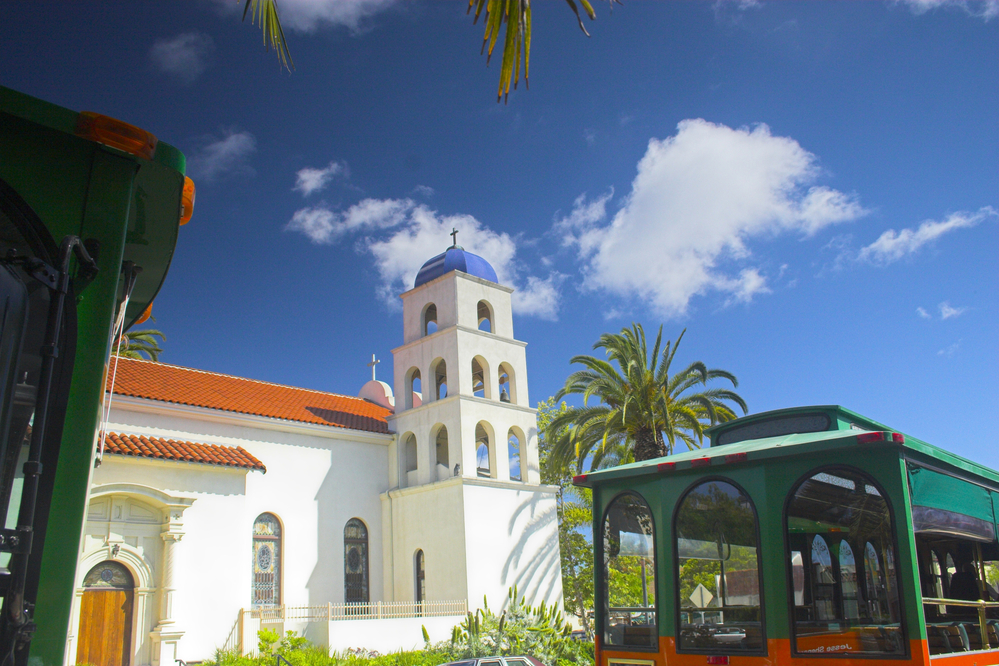 Downtown San Diego (old town)
Downtown San Diego
As the central business district of the city, Downtown San Diego is a bustling whirlwind of businesses, culture and eateries. Just south of Balboa Park and East of the San Diego Bay, Downtown offers eight smaller districts within the larger Downtown area:
Columbia: While mainly a commercial area, the San Diego Midway Aircraft Carrier Museum and the Maritime Museum are located in this neighborhood.

Core District: The central business district of San Diego, located in the center of the city.
Cortez Hill: One of the oldest residential neighborhoods in San Diego, it's named after the historic El Cortez Hotel.
East Village: Once an area of warehouses and empty lots is now a thriving community thanks to the construction of Petco Park in 2005.
Gaslamp Quarter: The area was once known as New Town, after the relocation of central San Diego in the 1860s. Now a bustling site of nightlife, the area was named the "Gaslamp Quarter" after preservation efforts in the 1980s and the beautiful gas lamps that line Market Street.

Little Italy: Once a thriving fishing grotto, Little Italy is now home to many Italian restaurants and retail stores.
Marina: An area filled with many high-rise condos and hotels, the Marina is home to the San Diego Convention Center and Seaport Village.

Horton Plaza: Most commonly recognized for the retail mall near the plaza, this area was originally sold to the city of San Diego by Alfonzo Horton.

Overview of the Real Estate Market in San Diego County
Covering a total of 4,526 square miles and with a population of about 3-million people, San Diego County is a booming market for real estate. With local craft breweries, large cultural parks, and an easy commute to major vacation destinations (with it also being a destination itself!), San Diego County easily has some of the hottest real estate on the market.
Overview
Median Sales Price: $519,000
Average Price per Square Foot: $394
45% of homes are single-family homes
51% of homes were built between 1970-1999

According to San Diego Union-Tribune, this past year, San Diego County's regional index of home prices went up 6.4 percent in 2016. In comparison, The Los Angeles market rose by 5.5 percent and the San Francisco market by 5.3 percent.
With home prices steadily climbing in San Diego County, it's a great time to consider stepping into the real estate market. With consistent growth over the past few years, the real estate market in San Diego County is definitely appreciating.
Local Economy and Workforce
San Diego County's local economy is one of the largest compared to other similar urban areas within the U.S. Conveniently nestled along the Pacific Ocean, some of the largest economic sectors include international trade, tourism, biotech, and defense.
San Diego County is also home to the largest naval fleet in the world. With several military bases in San Diego, including the US Navy, the Marine Corps, and the Coast Guard, the United States military helps employ 1 in 5 San Diegans in the workforce.
San Diego is also home to many technological companies. Qualcomm, a leading tech company in telecommunications, was founded and currently based in San Diego. There are plenty of other tech companies as well, including LG Electronics and Sony.
With several local universities within the county limits, research is a huge sector of the San Diego economy. With University of California-San Diego (UCSD) based in La Jolla, they've been able to fuel a huge growth in the biotechnology field. Located near La Jolla and Sorrento Valley is a hub of almost 400 different biotechnology companies.
In 2014, San Diego was designated by Forbes as the best city in the country to launch a small business or startup.
San Diego Communities
Planning on moving to San Diego or buying property here? Here is an overview of some of the top cities and neighborhoods in the San Diego real estate market. Take a look to learn about America's Finest City!
Oceanside, San Diego
Located south of Camp Pendleton, lies Oceanside, the third-largest city in San Diego County. Encompassing a total of roughly 42-square miles, this diverse area is a great, central location to the rest of San Diego County.
Key Oceanside Housing Facts:
Population: approximately 160,000 
Home Ownership: 56% of Oceanside residents own their home
Average Home Value: $472,900
Average Price per Square Foot: $301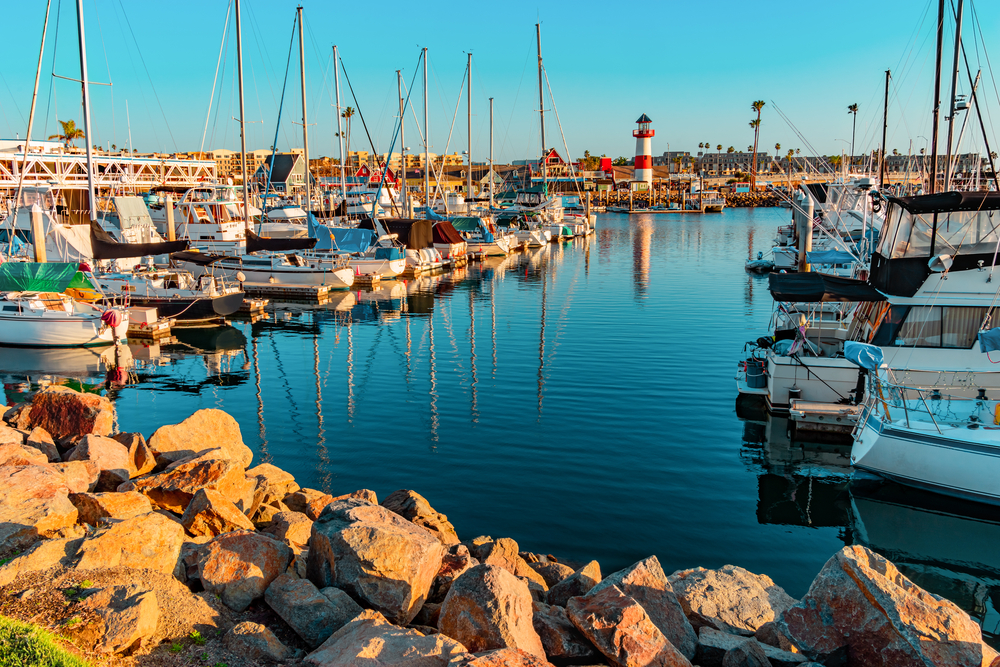 Oceanside Harbor
Oceanside Culture and Landmarks:
While situated near the Pacific Ocean, Oceanside is mainly suburban neighborhoods. Known for being home to many Marine Corps members and military families based in Camp Pendleton, Oceanside is a great place to raise a family.
One of the most famous landmarks in the area is the Oceanside Pier, the longest wooden pier on the western coast of the United States. Every Thursday, Downtown Oceanside hosts a nighttime farmer's market, complete with fresh food stalls and live music—only a couple of blocks away from the pier.
Oceanside is also known for amazing surf spots. With the Pacific Ocean only a few blocks from Downtown Oceanside, it's a great place for surfers to get together and shred some waves. The California Surf Museum is also located in Downtown Oceanside.
Fun Fact: Oceanside is home to the house where Kelly McGillis and Tom Cruise shot a scene for the '80s hit film, "Top Gun."
As local San Diego Realtors, we have a lot of information to offer you about the Oceanside real estate market. If you're interested in more information, check out our neighborhood spotlight area, and connect with us! We're more than happy to help you find an Oceanside property that works best for you.
Imperial Beach
Located south of the San Diego Bay lies the coastal area of Imperial Beach. The area encompasses approximately 4 miles of beach and employs lifeguard staff year-round. Imperial Beach is one of the more popular surfing areas in San Diego, second only to Black's Beach in La Jolla.
Key Imperial Beach Housing Facts: 
Population: approximately 27,000

Home Ownership: 27%
Median Sales Price: $515,000
Average Price per Square Foot: $387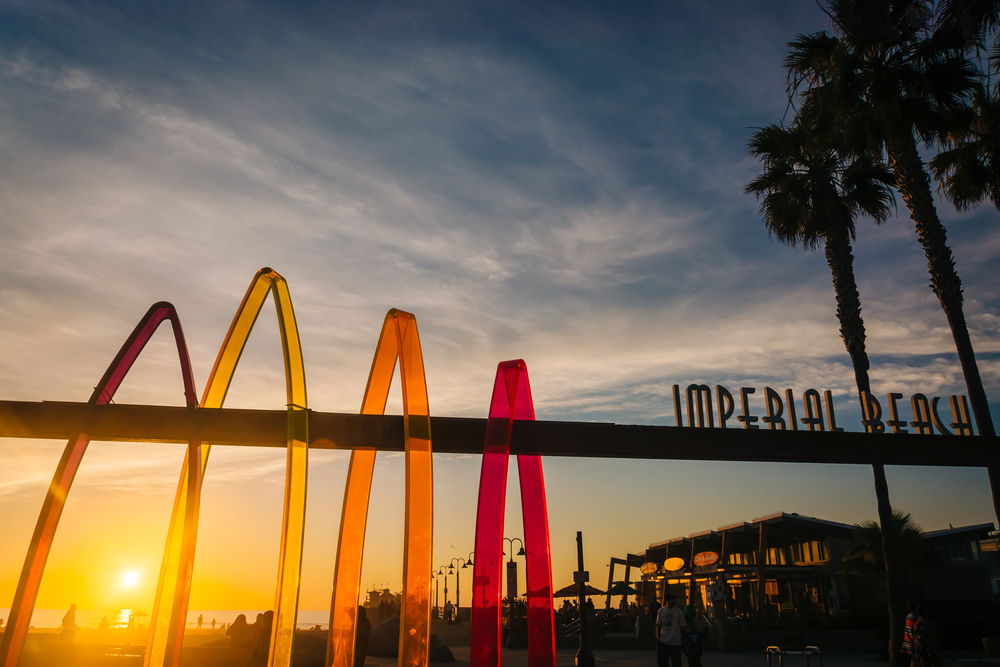 Imperial Beach Sunset
Culture and Landmarks
If you're looking for a chill, coastal town, Imperial Beach is the place to be. The area holds an authentic laid-back indie vibe and is currently undergoing a wave of new businesses. With businesses like the Bikeway Village partnering with Coronado Brewing, the area promotes a lot of active lifestyle and support for the community.
Every year, Imperial Beach hosts the annual U.S. Open Sandcastle Competition, where artists travel to the beach to create magnificent sculptures entirely out of sand. While this is the main focus of the event, many people visit to check out the other art exhibits and vendors.
The Imperial Beach community is small and tight-knit. As a very walkable community, it only makes sense to have schools in the areas of residential communities. The community boasts a large local business scene that's frequented by residents of Imperial Beach. If you are looking to leave the area for a little, MTS provides services out of Imperial Beach through Downtown and other areas of San Diego.
Ocean Beach
If you follow the coastline south, past Mission Bay, you'll come across the beloved beach enclave, Ocean Beach. Fondly known by locals as merely "OB," the area has a laid back coastal town feel. With hundreds of small, unique local businesses plus the famous OB Dog Beach, the area is great for exploring and spending time outdoors.
Key Ocean Beach Housing Facts:
Population: roughly 10,000

Home Ownership: 9%
Median Sales Price: $689,500
Average Price per Square Foot: $626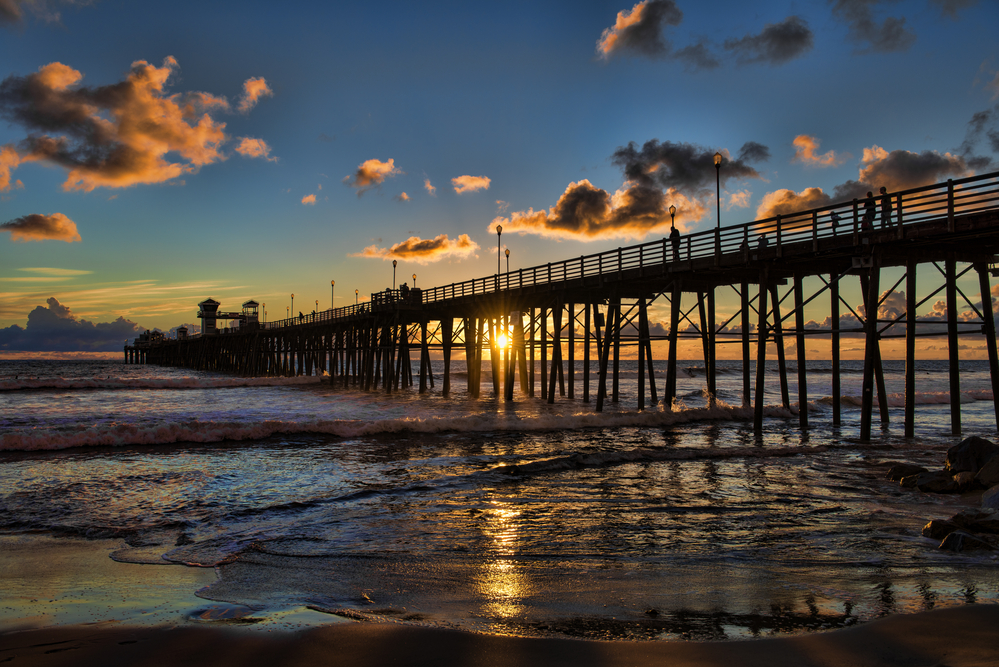 Ocean Beach
Ocean Beach Culture and Landmarks:
The community of Ocean Beach is a lively coastal city, ideal for dedicated surfers and beachgoers, but also an excellent spot for tourists to come in and check out the local scene. One of the most popular spots in this area is the OB Dog Beach. Known for becoming one of the first leash-free beaches in the U.S., Dog Beach is a highly-visited beach for dog lovers and their pups of all shapes and sizes.
Another big attractor to Ocean Beach is its Antique District. Renovated from larger storefronts from the '60s and '70s, the Newport Avenue Strip is now known for a wide array of antique stores and receives a lot of foot traffic from locals and tourists alike.
The community of Ocean Beach strongly supports small and local businesses, which is why you'll see very few corporate chain stores in the area. The main business district of Ocean Beach has been owned by small, family businesses since the '30s. Continuing on with this trend in the modern era, a group of local Ocean Beach residents attempted to block Starbucks from opening up in the area in the early 2000's without success.
For more information about the Ocean Beach area, check out our neighborhood spotlight! If you're interested in homes or condos for sale in the Ocean Beach area, let us know! We can help you find a San Diego home that will fit your needs.
Pacific Beach
The beach community of Pacific Beach is a popular surfing spot, mainly populated by young professionals and college kids looking to establish their careers further and live close to the college. Known simply as "PB" to the locals, the area is a hotbed for nightlife and up-and-coming eateries. Located south of La Jolla and north of Mission Bay, this community is known for attracting students from one of the many colleges in the San Diego area, especially San Diego State University and University of California, San Diego.
Key Pacific Beach Housing Facts:
Population: 47,000
Home Ownership: 28%
Median Sales Price: $696,500
Average Price per Square Foot: $636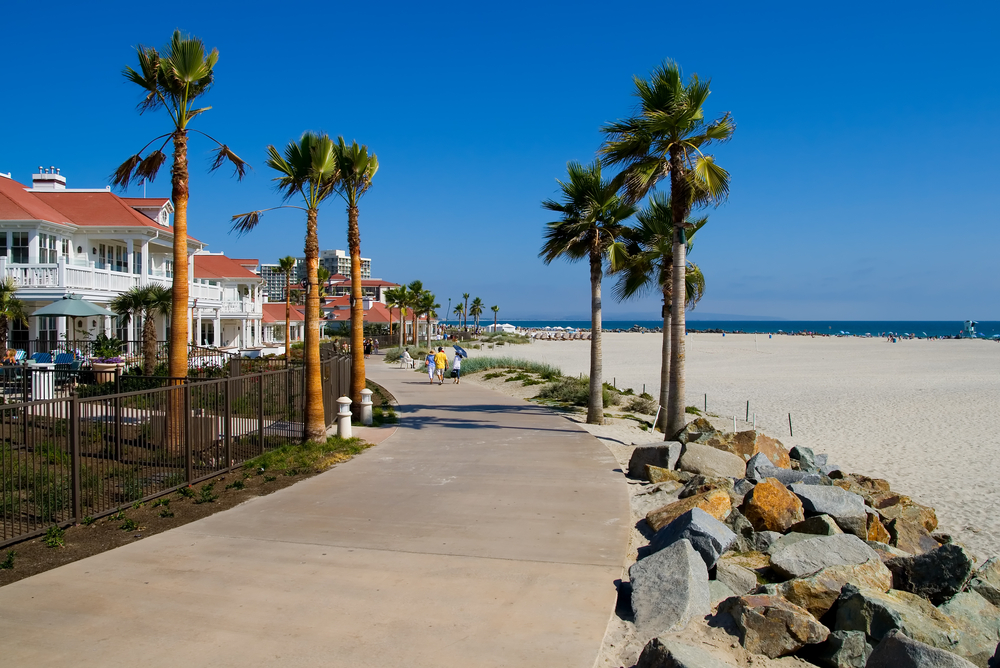 Pacific Beach
Pacific Beach Culture and Landmarks:
Known for its key business district on Garnet Avenue, Pacific Beach is a thriving, yet small, beach community that's ideal for those who love biking and surfing. With its laid-back, low-key surfer style, the Pacific Beach community is known for being an exciting place to hang out for the younger crowd.
Despite the rising rent prices, the area continues to be a great place to plant your roots. If the crowded Garnet Avenue isn't the right scene for you, traveling a few miles up north towards Bird Rock and La Jolla, the area becomes much quieter. More often you'll find more established young professionals who travel to the main strip only occasionally.
If you're looking to enter the San Diego housing market, we can help you! We're local San Diego real estate agents who can help you buy or sell your San Diego condo or residential property. If you want to learn more about the Pacific Beach real estate market, check out our neighborhood spotlight!
Carlsbad
Lying along the Pacific Ocean south of Oceanside is the "Village by the Sea" known as Carlsbad. Covering 40-square miles, the area is one of the wealthiest communities in California. Often a common tourist destination, Carlsbad is a beautiful area to settle down. Only a 30-minute drive away from Downtown San Diego, and other desirable areas around San Diego County, Carlsbad's central location is ideal both for tourists and locals alike.
Key Carlsbad Housing Facts:
Population: approximately 112,000
Home Ownership: 62% of Carlsbad residents own their home
Average Home Value: $823,105
Average Price per Square Foot: $364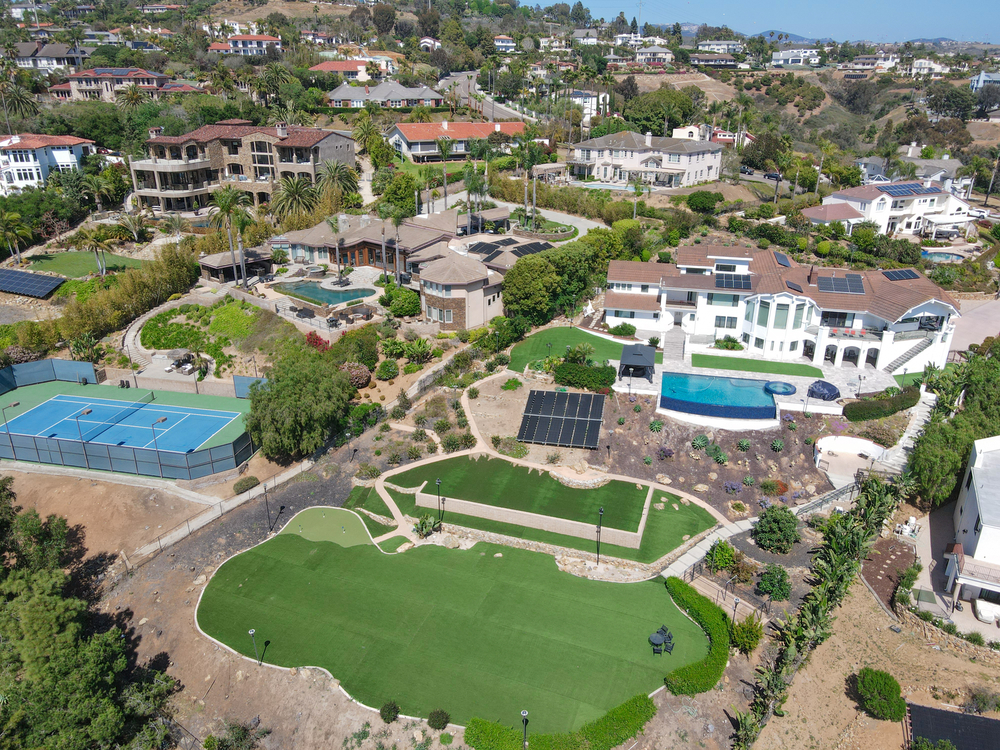 Carlsbad Culture and Landmarks:
Carlsbad is a well-established seaside resort city. The area is known mainly for its natural coastal tourist attractions, such as the South Carlsbad State Beach Campground, Terra Mar Point, or more high-end resorts, such as the Tamarack Beach Resort. In the spring, the Carlsbad Flower Fields open to allow residents to view a vast array of local, colorful flowers.
Carlsbad is also home to LEGOLAND California, a LEGO-themed amusement park. This year-round amusement park includes a water park and an aquarium for families to enjoy. This park attracts tourists from all over the state, and even out of state.
Carlsbad is also the golf manufacturing capital of the world. Some of the top golf manufacturing companies, such as Callaway, Titleist and Cobra Golf are all headquartered in Carlsbad. Because of this, Carlsbad is known as the "Titanium Valley."
If you're looking for a home for sale in Carlsbad or planning on selling your Carlsbad property, we can help! As knowledgeable local San Diego real estate professionals, we have a lot of insight about the local areas around San Diego County.
Point Loma
Located south of Ocean Beach and the famous Sunset Cliffs lies Point Loma, a hilly peninsula bordered by the Pacific Ocean and San Diego Bay. Historically, Point Loma is considered the area "where California began." This is because Point Loma is the area in which the first European expedition landed in California.
Key Point Loma Housing Facts:
Population: approximately 47,000 (Includes Ocean Beach)

Home Ownership: 47%
Median Sales Price: $850,000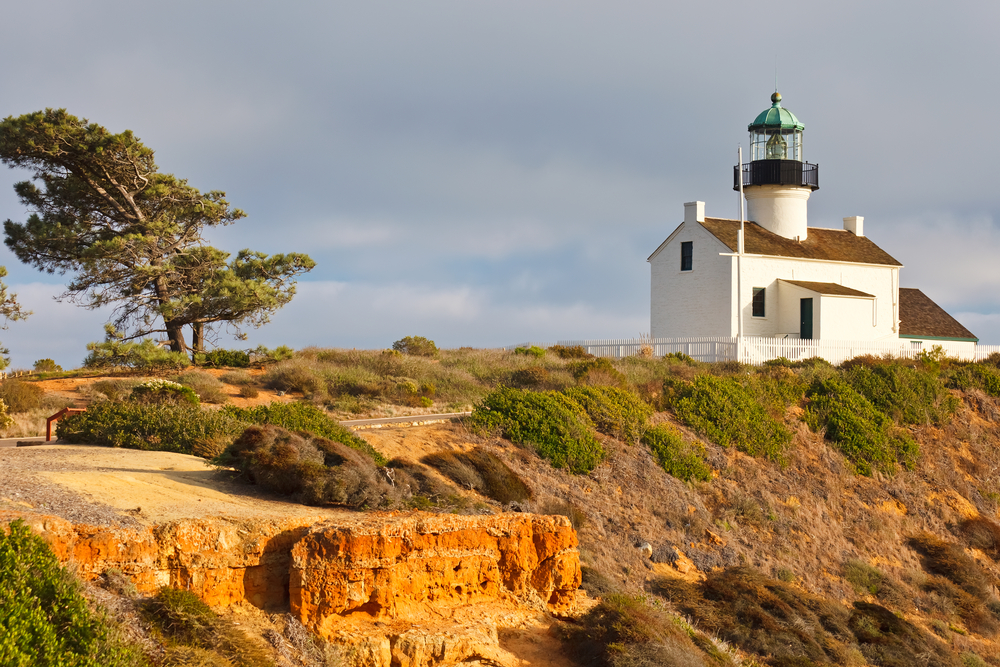 Point Loma Lighthouse
Culture and Landmarks
One of the most famous landmarks of Point Loma, but also San Diego in general, is the Old Point Loma Lighthouse. While initially thought to be a great location for incoming vessels, the lighthouse was often shrouded with fog and marine layer. The lighthouse is now recognized as a National Landmark, along with the Cabrillo National Monument, the Marine Corps Recruit Depot Historic District, the San Diego Naval Training Center and Rosecroft.
The Point Loma area is broken up into about 15 smaller segments. One of the more popular areas is Liberty Station, a small market located in the old Navy Training Center. This area holds a couple of different attractions with more on the way. One of the more popular retail centers includes the Liberty Station Public Market. Here, visitors can eat at one of the many restaurants in the public market, shop at local stores, and indulge on local craft beers at Stone Brewery's tasting room located in the area.
Point Loma is home to several schools for people of all ages. One of the most notable is Point Loma Nazarene University, which is a Christian liberal arts college with an ocean view. This area is considered part of the San Diego Unified School District, which includes Point Loma High School, two middle schools, and seven different elementary schools.
Point Loma is a beautiful neighborhood for those who enjoy the outdoors and being near the coast. It combines the laid-back nature of a coastal town with the amenities of a bustling city, which makes Point Loma a perfect place to consider purchasing real estate.
La Jolla
Located in the northern coastal area of San Diego lies La Jolla, a hilly coastal community famous for gorgeous cliffs and Torrey Pines State Park. With the University of California, San Diego located in La Jolla, it's not unusual to see many students frequenting local coffee shops, beaches and eateries. Downtown La Jolla is a popular spot for those wanting to take a leisurely walk to the beach or stop for a weekend brunch.
Key La Jolla Housing Facts:
Population: approximately 29,000

Home Ownership: 62%
Median Sales Price: $1,175,000
Average Price per Square Foot: $672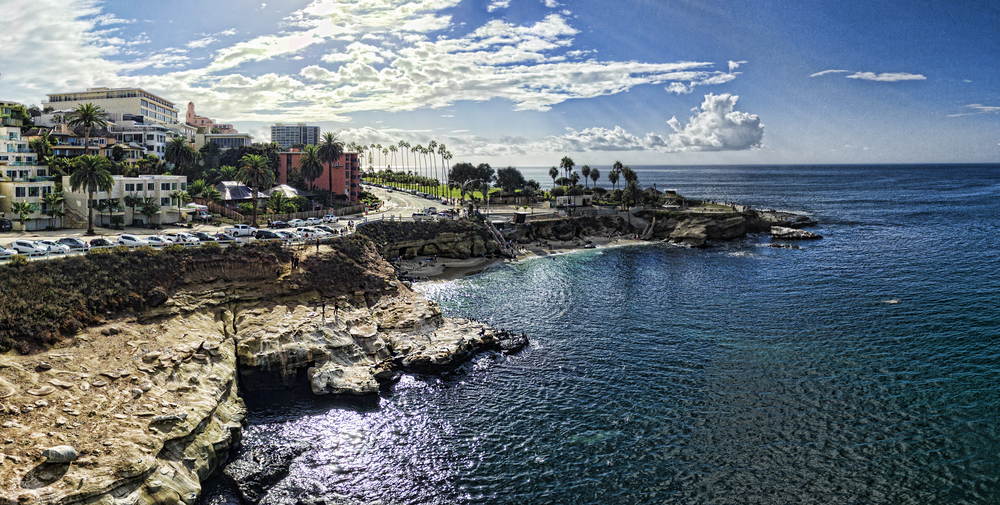 The shores of La Jolla 
La JollaCulture and Landmarks
One of the more popular destinations in La Jolla is La Jolla Cove, a small beach area where native marine life, such as seals, tend to congregate and pup. La Jolla is also home to a lot of mixed geological forms near the ocean, which allows those on the water, such as kayakers or paddle boarders, a great place to check out the natural formations.
Another popular landmark in La Jolla is Mount Soledad, an 822-foot tall hill in eastern La Jolla and geographically one of the highest points in San Diego. In 1913, a large Christian cross was placed upon the hill as a landmark. There has been a lot of controversy regarding the cross, as many argue the cross violates the separation of church and state.
Torrey Pines State Reserve is an extremely popular destination which many people come to visit for its sweeping Pacific Ocean vistas. This area is one of the only places to find the Torrey Pine tree, which is one of the rarest pines in North America. This park offers eight different trails, ranging from ¾- of-a-mile long to almost 1.5-mile in hiking bliss. Torrey Pines is a great place for those looking for a calm and easy hike. Depending on the trail you choose, you may even end up directly on a beach!
Del Mar
Located south of Solana Beach and north of Torrey Pines State Park lies Del Mar, a small beach community that encompasses about 2-square miles of land. Due to its small area, the population of Del Mar consists of about 4,000 people, but don't let that fool you: the location is still great for real estate.
Key Del Mar Housing Facts:
Population: approximately 4,000
Home Ownership: 75% of Del Mar residents own their homes
Median Sales Price: $1,255,000  
Average Price per Square Foot: $639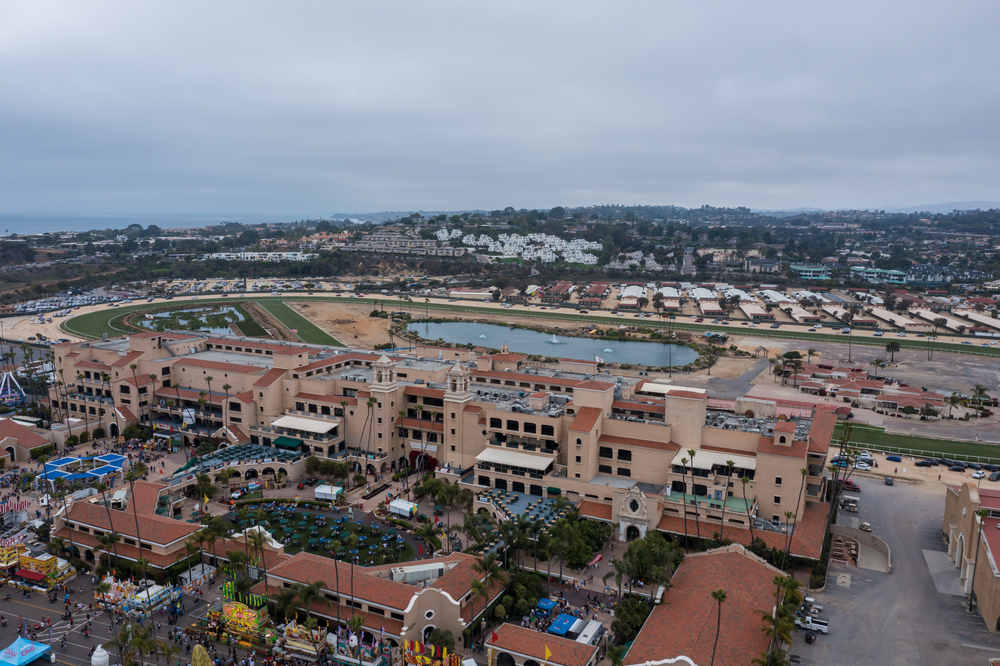 Del Mar Culture and Landmarks
Since Del Mar is situated within such a small geographical area, it's often described as a small, tight-knit community. Since the area is home to high-end real estate, the citizens of Del Mar are older, more educated, and wealthy.
Del Mar Fairgrounds is host to the San Diego county fair every summer. The Del Mar County Fair attracts San Diegans and other local Southern Californians to the area every year. The Del Mar racetrack is also located on the fairgrounds. The racetrack is the second largest horse-racing venue in the western United States.
Torrey Pines State Natural Reserve is a short drive from Del Mar. It's one of the only areas home to the rare Torrey Pine Tree and other unique, indigenous plants and animals. The trails along the Reserve reach down to the beach, offering great day hikes in the warmer months.
If you're looking to buy or sell your property in Del Mar, we can help! We're local San Diego real estate agents who work with a residential brokerage to provide our clients with the best possible service.
Mission Beach
If you head all the way west on I-8 freeway, you'll eventually reach the area known as Mission Beach. This area encompasses about two miles of ocean-front housing. Mission Beach is also home to the historic Belmont Park, an amusement center created to stimulate the real estate market in the mid-1920s.
Key Mission Beach Housing Facts:
Population: approximately 47,000
Home Ownership: 38%
Median Sales Price: $1,292,000
Average Price per Square Foot: $1,145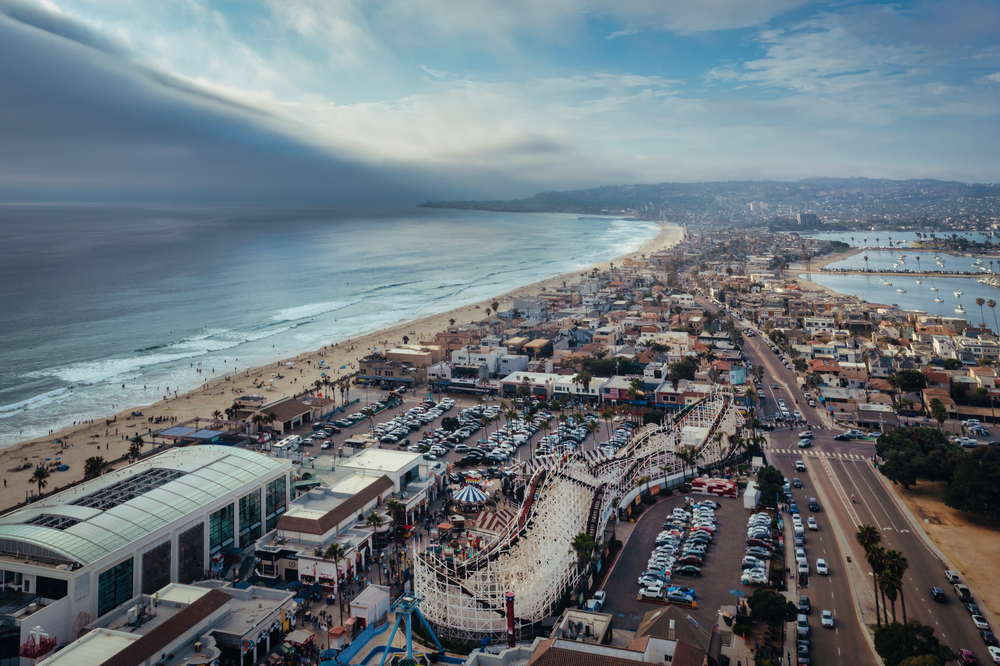 Belmont Park, Mission Beach

Mission Beach Culture and Landmarks
Due to its easy accessibility and a wide-variety of things to do, Mission Beach is a popular destination for tourists. With Belmont Park nestled right along the beach, it's not difficult to spend a whole day in the area. Along the beach rests a bike path where locals are often seen jogging, skating or riding their bikes. The path goes from the peninsula of Mission Beach all the way north towards Bird Rock.
One of the more famous attractions in the Mission Bay area includes SeaWorld in Mission Bay Park. SeaWorld is a hybrid theme park and aquarium that brings in thousands of visitors every day. The park is also home to the Hubbs-SeaWorld Research Institute, a research facility that focuses on marine biology and outreach to the general public.
Mission Beach is home to a bustling nightlife scene. With well-known bars such as The Wave House and The Coaster Saloon in the area, it's not difficult to find a place to grab a drink or a nibble. Even if the "vacation crowd" isn't quite your scene in Mission Beach, other areas such as Ocean and Pacific Beach are only a couple miles north.
Bird Rock
Located between Pacific Beach and La Jolla lies a small area known as Bird Rock, a rocky coastal community. If you're looking for a community that's centered around local businesses and walkable areas, Bird Rock is a great area for you. While still technically part of the larger area of La Jolla, Bird Rock lives and breathes as its own entity.
Key Bird Rock Housing Facts: 
Population: 3,920
Home Ownership: 85%
Median Sales Price: $1,762,500
Average Price per Square Foot: $894
Key Bird Rock Culture and Landmarks
Bird Rock is a hip and vibrant community filled with local businesses and restaurants. Named after an offshore rock that resembles a bird, that area is often photographed when local avian life is perched on it. While the area doesn't have accessible beaches, it's still one of the more walkable communities within the San Diego area.
Known for sustainable restaurants and businesses, Bird Rock is home to amazing local eateries. One of the more popular locations is Bird Rock Coffee Roasters, an award-winning coffee roaster. Other local restaurants offer sustainable and farm-to-form menu options for those in the area.
While most of the residents in Bird Rock commute by car, public transit does have routes around the Bird Rock area. With La Jolla not far and Downtown only about 30 minutes away, the commute from Bird Rock to common employer locations is not difficult.
Learn More about Living in San Diego!
Interested in making San Diego your home or relocating to a new neighborhood here? Let's get in touch! We've successfully helped dozens of families make their homes in San Diego. We can tell you more about each neighborhood and chat about what would be right for your lifestyle.