Looking To Buy a San Diego Home?
What to Expect When Buying A House With Steele San Diego Homes
We know that buying a home is one of the largest financial decisions you could make in your entire life. That's why we go the extra mile to find you the perfect home that is within your budget. At Steele San Diego Homes, we will be with you every step of the way when purchasing a new home.
Buying a house should be fun and exciting, so we handle the more confusing and technical aspects while guiding you through the necessary steps of the buying process.
We have a great system in place to find you beautiful properties that will meet your lifestyle and household needs. We have access to homes that are not even listed on the market yet, so you may have access to a house before any buyers know it exists!

Our Promise
When you choose to work with us, it is our promise that we will provide you with the best real estate experience possible.
For every client, we commit to serving you with our open communication, impeccable work ethic and top-notch service. If, for any reason, we feel that we can not provide you with an exceptional experience, we will not take you on as our client.
When we mutually agree to work with each other, we count on you as much as you count on us.

We love working our tails off for clients because we are committed to working with each other.

However, if at any point through the process working with us no longer feels like the right decision, we can have a simple, open conversation and part ways.
We always have your best interest in mind, regardless of the consequence. If you feel as though working with someone else will serve you better, that's great! We will respect and support your decision.

Our 5-Step Process to Buying Your New Home
Building a Foundation – Find a reputable realtor who is a great fit for you. Next, assess your financials and find a lender. We're happy to find a lender who will work with you, if you prefer.
The Financials – Establish your budget and get you pre-approved for a mortgage
Finding Your New House – This is the fun part! We help you put together a home buying wish list, search for properties, tour properties, and submit and negotiate offers on your behalf.
Do Your Due Diligence – We help you to coordinate a home inspection, recommend specialists, assess the property for possible repairs, additions, or upgrades, review disclosures and paperwork and more. We make sure that you are not getting in over your head and are moving into a great property that you can enjoy for years to come.
The Home Stretch – The lender makes sure that everything is finalized with the loan and we conduct a final walkthrough inspection to make sure that the home is still in the same condition and any negotiated repairs have been completed prior to close.
Why Should You Work With Us Instead of Someone Else?
We care about making a genuine connection with every one of our clients and enjoy providing the ultimate personalized home buying experience.
We're not the typical stiff, salesy type either. We will never try to push you into a transaction you're uncomfortable with, bend the truth, or tell you the things that we think you'll want to hear. What you see is really what you get.
We value transparency and clear communication. We like taking a straight up and fun approach to a sometimes overwhelming process. We know what it's like to work with an unethical, untrustworthy agent, which is why we strive to be different. We actually listen to your needs, discuss what is important to you, and won't waste your time.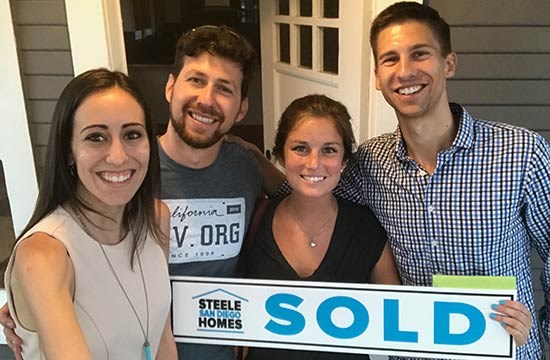 Think we would be a good fit to work with?
We would love to hear from you!
CONTACT US
How Successful Have We Been In The Past?
We are always looking out for people's best interests and try and keep the buying process as straightforward and fun as possible, so it's no surprise that relationships with our clients are enjoyable, casual, and productive. We have been very quick at finding the majority our clients their perfect home while working flexibly around busy schedules. We make sure that the buying process is quick and casual with us, and will never feel forced or rushed.
Don't just take our word for it though, listen to the testimonials from other highly satisfied clients we worked with!
Testimonials
---
"John and Melissa really went above and beyond to vet the homes we looked at and make sure we had all the right information to make an informed decision. They hooked us up with the best home inspectors, sewer scope experts, contractors, architect and lender's around who could help us weigh all options and assess all risks. They're the kind of people that wouldn't be able to sleep at night if they didn't push themselves to do better work than they did the day before. We were very surprised at their knowledge, advice, strategies and responsiveness. It was an amazing customer experience. They really mitigated a lot of my stress and anxiety during the home buying process. I'll use them again and again, and will refer them to anyone interested in buying a home or selling one." – Dan Greco
---
---
"Melissa and John were great! Not only did they calm my nerves about being a first time home buyer, but they far exceeded my expectations in the entire home buying process. They were attentive to responding promptly to my numerous questions and they project experience and a passion for real estate. I would definitely recommend them!" – Kellie Dudy
---
---
"I met a lot of realtors here in San Diego but nothing like the couple, John and Melissa Steele. We were able to close the escrow sooner than expected and we were really taken care of every single step of the way until we had the keys to our new house!" – Archie and Cherry Picar
---
---
"I truly believe that John and Melissa are the best in the business. Their knowledge of the entire process and their communication every step of the way set them so far apart from other relators I've worked with in the past, and their professionalism and passion for the job was wonderful to see. They were always available to meet with contractors, architects, home inspectors, and more (even when we couldn't be there), and their negotiation skills got us quite a bit back from the seller. I cannot recommend them enough!" – Amanda DiSilvestro
---
"We loved working with John and Melissa! We always felt informed and confident in them. They worked hard to negotiate for us and get us a great deal. We would recommend them to family and friends." – Alyssa and Jerrad Slater
---
"Lisa – We can't even express how happy we are with John and Melissa!! They were caring and made us feel so comfortable with them! They helped us find our dream home!" – Lisa Barker and Dominic Melendrez
---
Want to work with us?
Send us a message or give us a call!
CONTACT US