Tina and Gary Allford
"As a result of attending several open houses, my husband and I met a lot of realtors who were willing to help us find a home to purchase. We agreed that we would never want to be represented by any of them and wondered if we would ever find a realtor that we could work with.
That all changed when we went to one of John and Melissa's open houses. We developed an instant rapport with them and knew that we wanted them to help us with our search for a new home."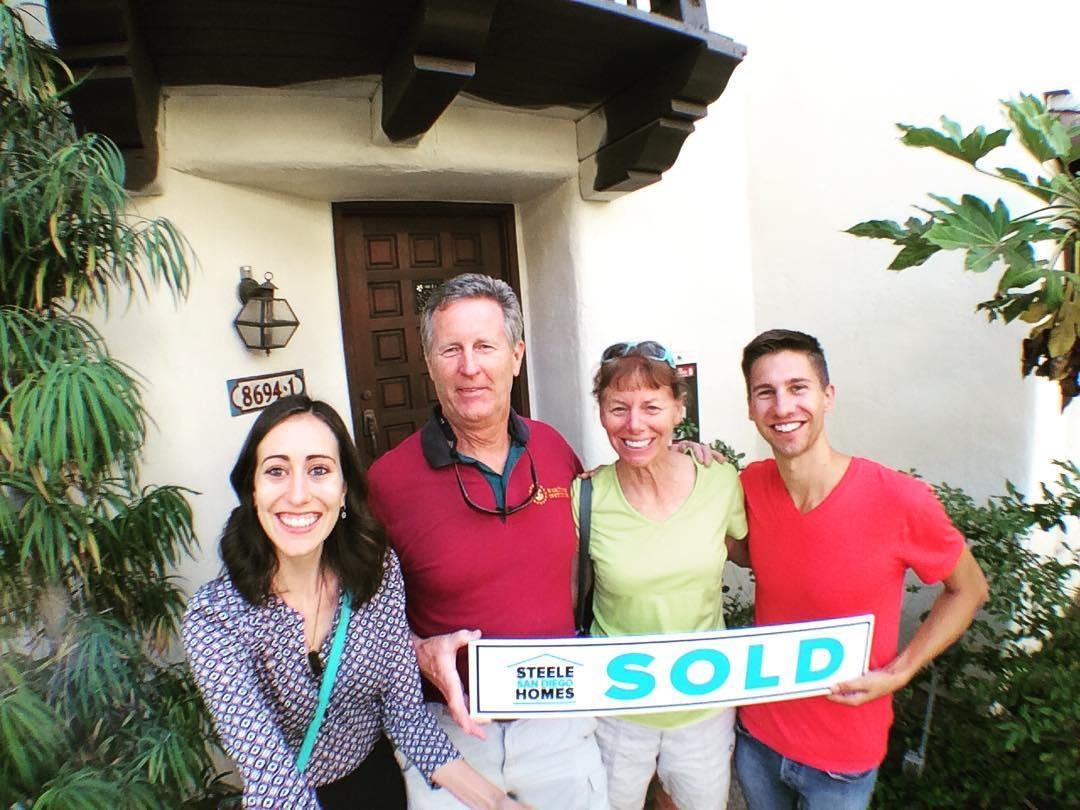 Bruce and Cindy Osmun
"We just completed a very smooth 1031 exchange thanks to John and Melissa Steele. We will certainly be recommending them to friends and family and hope to work with them again ourselves soon."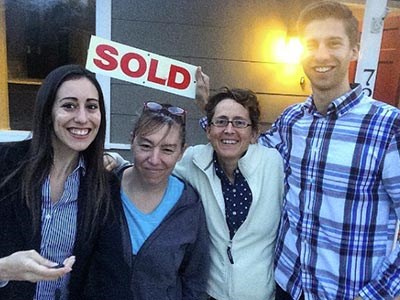 Denise Paquin
"I have worked with a half dozen other realtors, but none exceed their unique combination of talents, honesty, integrity, kindness, persistence and generosity. [John & Melissa] worked long hours, diligently attending to every detail to keep us informed of all the options at each step of the way."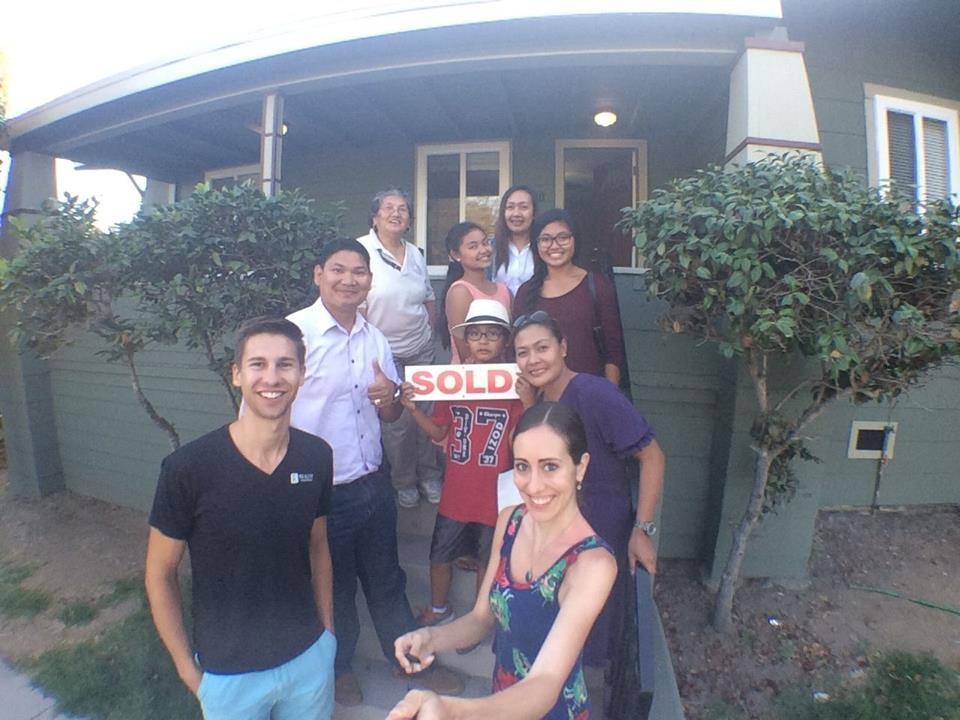 Archie and Cherry Picar
"I met a lot of realtors here in San Diego but nothing like the couple, John and Melissa Steele. We were able to close the escrow sooner than expected and we were really taken care of every single step of the way until we had the keys to our new house!"
Michelle and Kevin Lundeen
"There was not any pressure at all. Every time we talked to John & Melissa I felt like they were taking notes and making sure that they understood what we wanted. We even changed our minds along the way, but they were able to help us find the home of our dreams."
Eric and Metztli Zentmyer
"[John & Melissa] were always there for us when we needed them and ultimately found the perfect investment project for us. They are genuinely passionate about their work, attentive, diligent and a lot of fun to work with!"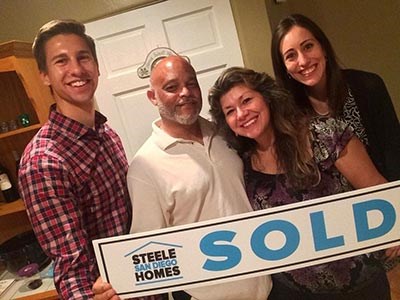 Paula and Eric Johnson
"It was a wonderful experience working with John & Melissa. All of our needs and questions were answered promptly. We never felt any pressure, and the advice and guidance given were always in our best interests. What more could you ask for, they are awesome!"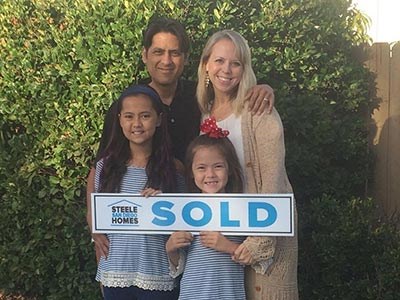 Charlotte and Paulo Esquivel
"Once you interview a few agents, you will find that there is really no need to look any further than John and Melissa Steele. I wasn't even planning on selling or buying a house when I met them, and a few months later, we are living in our dream home!"
Andrew Cole and Lana Powers
"One of the things that set Melissa and John apart is that they're really genuine people. They really come across as if they have an emotional attachment to what they are doing, as if they care about the people who work with. There's a lot of great realtors out there — we work with a dozen on a regular basis, but one of the things that sets John and Melissa apart is that they really care about the end result, not just selling a house. They are willing to step out and do things that will help out their clients."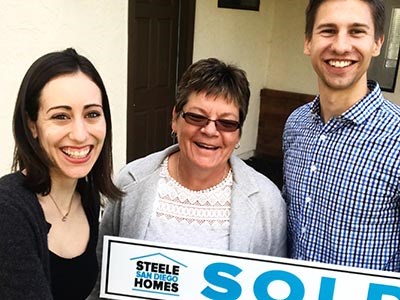 Becky Sigmon
"I highly recommend these two. Buying or selling can be really stressful. They were there for me every step of the way."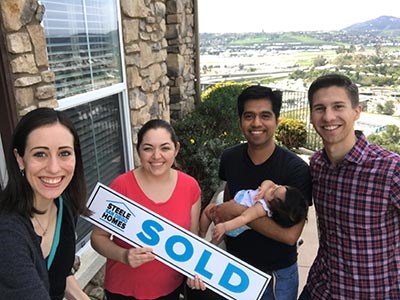 Cristobal and Mariana Jimenez
"We moved from NorCal to San Diego without knowing any communities. John & Melissa setup a search for us and when we found places that we liked they kindly went out and walked the house for us. When our offer was accepted, that was when I first walked the place!"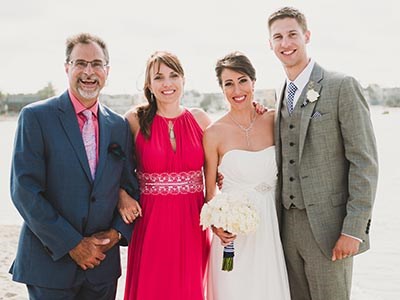 Chris LaBarbiera
"They were extremely organized, professional and had great communication throughout the entire process. I would highly recommend John and Melissa to anyone who is thinking of buying or selling and I plan on working with them again in the future!"
"We met Melissa and John while randomly wandering into an open house they were curating, and were immediately struck by how enthusiastic and knowledgable they were about the area. We began looking for a home shortly after, and worked with their recommended lender who was efficient and closed our loan in a timely fashion. Melissa and John were dedicated, professional, and optimistic, helping us to bounce back after a particularly trying offer. Our 2nd offer went very smoothly and we now live in the home of our dreams!"
by A. Schiffer
"I had a great transaction with John and Melissa. They found a great property for me. We did not get it as the first escrow, but they knew it fit me as an investor well. They followed it till it fell out as they told me it would. Once in escrow they negotiated well on my behalf and brought the transaction to a close. I recommend them to any one looking for a home or investment property."
by D. Wright
"I recently had the pleasure of completing a successful real estate transaction with Melissa & John. Not only did Team Steele volunteer their weekend to hold an open house and help market my listing, they brought me a qualified buyer! Their communication was on point every step of the way and I really appreciate how darn positive they are! As we ran into a few road bumps (like every transaction has) they were solution focused and creative in solving problems. Its refreshing to work with agents who truly have their clients best interests in mind. I met Melissa & John networking when they were just getting into the San Diego real estate game and their early success is no surprise. Its been great to watch them quickly establish themselves as one of the top realtor teams in the market. Hope to work with you guys on another deal real soon!"
by Dave Brager
"John and Melissa were friendly and professional throughout the entire process of finding our home. They consistently went above and beyond what would typically be expected by any business professional. It took a while for us to find our perfect home, but John and Melissa never wavered, they were extremely attentive and were available to meet us or answer questions any time of day. They work so well together as a team, I was nothing but impressed with every aspect of our experience with them."
by G. Allford
John & Melissa Steele were a sheer pleasure to work with. As a first time home buyer the transaction of buying a home seemed very daunting at first. They greatly put me at ease through their friendly guidance at every step of a moderately long process. Their knowledge, communication skills, and passion for the business are top notch. Their follow up to closing, and integrity set them far apart from others in the profession. I recommend them wholeheartedly!
by J. Darcy
"I had an opportunity to work with John and Melissa as the lender on their transaction with the Lundeen's. John and Melissa were true professionals and it was my pleasure working with them. They take their job very seriously and protect their clients at all turns. They were very conscientious and made sure everything ran smoothly. They were always available to help and responded to every call. I was impressed. Thanks John and Melissa. I hope to work with you again soon."
by Cathy Smith Supreme Lending
"I'm a realtor in the NY area and I had the pleasure of working with John and Melissa through a referral. They were always willing to lend their support if needed and were very quick to respond to emails. Their upbeat attitude and follow up was consistent, two attributes every client should look for when hiring a realtor. Thanks again! Jen"
by Jennifer Venie-Eitleman
"My experiences with John & Melissa have been AMAZING. They are awesome down to earth people and truly care about your needs. They even give you personalized detailed reviews on the listings that fit your goal home! They work hard for you and I would definitely recommend them!"
by Matt Farrer
"I recently closed a challenging transaction with John and Melissa. The home needed quite a few repairs, and some of these repairs were very costly. With their open communication and willingness to work through these items we kept both the buyer and seller happy, and closed the transaction. I look forward to doing many more deals with them in the future and give them 2 thumbs up :)"
by Mark Magstadt
"Melissa and John Steele were so helpful in researching and finding information on the properties I was interested in. Their knowledge and expertise are invaluable, and I consult with them before making any of my real estate purchasing decisions. When a property I was interested in was outside of their normal area of expertise, they referred me to a fantastic agent who seamlessly picked up where they left off, but they kept themselves available throughout the transaction. I would highly recommend Melissa and John, they are awesome to work with!!"
by M. James
"This week Melissa and John showed how organized, detailed, and committed they are to serving their clients. We were involved in two simultaneous and very complicated transactions that were on very tight timelines for closing. The first sale closed and the sellers of that property used their proceeds to purchase another home that was on the brink of foreclosure the very next day. With so many things that could have gone wrong, Melissa and John did an outstanding job of communicating with everyone on both transaction to make sure the process went smooth. It was a real show of professionalism and experience from the both of them. WOW, what a week! Congrats to you two for being such superstars!"
by Greg Ives